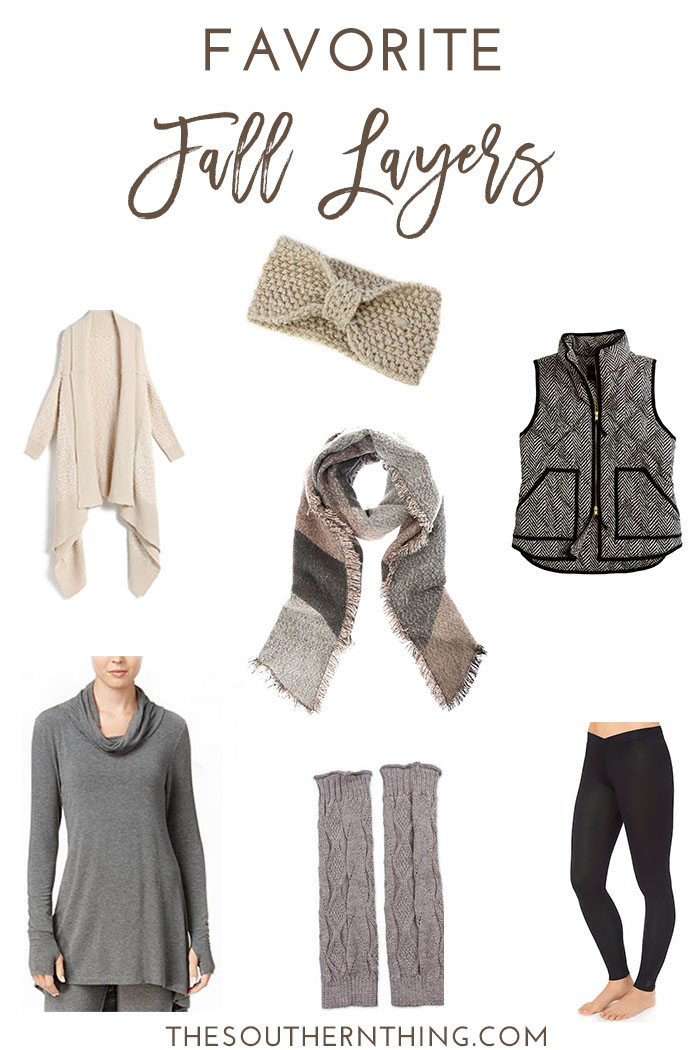 Fall can be a tricky season to dress for depending on where you live. For us down here in the south, you never know what you're going to get. It might be cold in the morning, but then mid 80s by the afternoon. The struggle is real!
As much as I'd love to be able to wear all the warm sweaters and coats without worrying about sweating at some point during the day, that won't ever happen here. So instead, I layer up for the bipolar weather!
Layering is actually the best way to go, regardless if you're an always cold or easily gets warm type of person. See below for some of my favorite fall layers!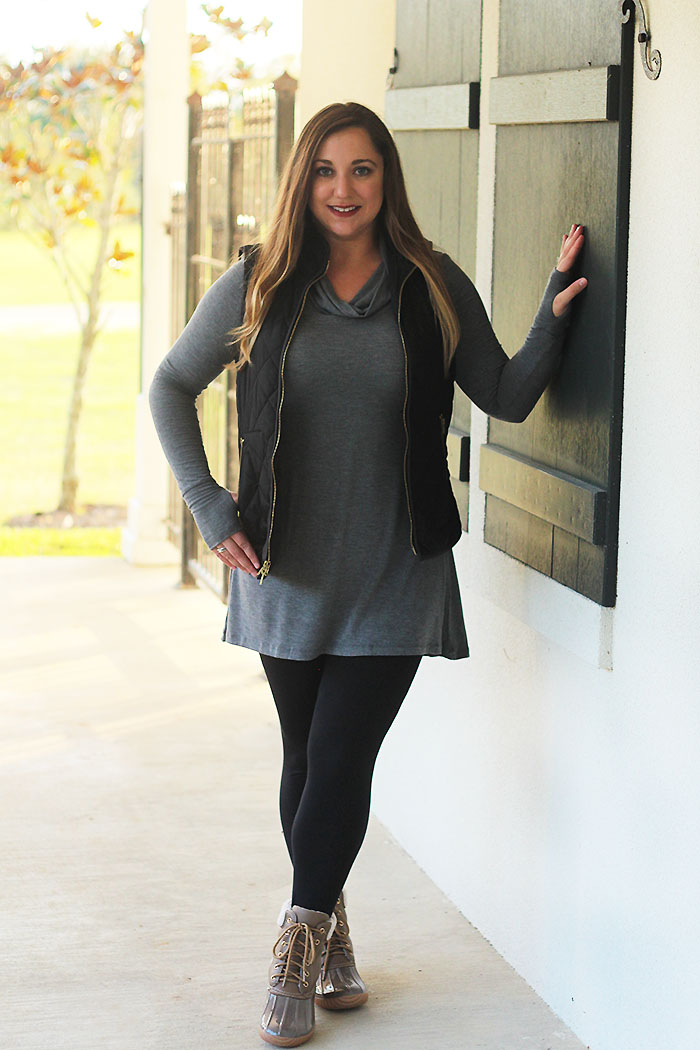 FAVORITE FALL LAYERS
Lightweight Tunics
Tunics are a fall fashion staple in my wardrobe. 90% of the time you'll find me in one of these when the weather is just cool enough. I've been digging Cuddl Duds tunics lately. It has a high-low hem which is perfect for wearing with leggings (keeps your booty covered!) and the lightweight material provides comfort and warmth without extra bulk. The thumbholes in these tunics are an added bonus too. They're so easy to layer! I'm wearing the heather gray tunic in the pic above!
Quilted Vests
Not only are vests super cute, they're perfect to keep on hand to layer up in for those warm days that turn into cool nights! I love love love the quilted look – something about it is very cozy and wintery to me! My favorite is this herringbone quilted vest.
Blanket Scarves
Everyone loves scarves, but blanket scarves take timeless favorite fall layers to a whole new level! They're so fashionable, but best of all, super versatile! There are at least 10 different ways you can wear a blanket scarf, ranging from a traditional scarf to a shall. This is perfect for all types of weather.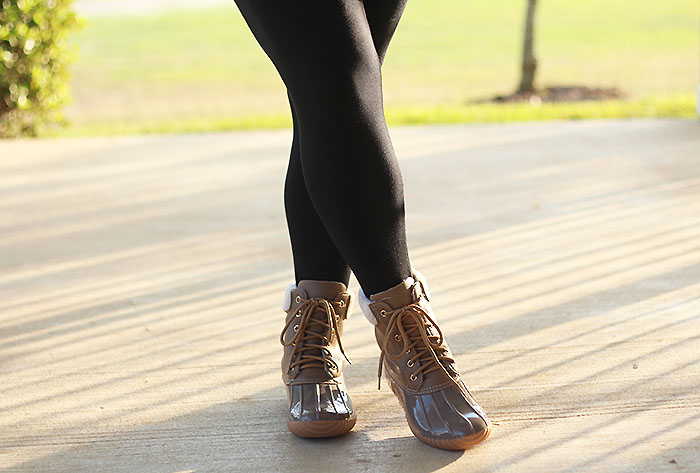 Leg Warmers
Leg warmers are a great way to add extra warmth to your legs and feet without wearing extra clothes or heavily lined boots! My feet get cold easily and usually stay cold, so I love being able to quickly throw these on when the temperatures drop! I like how they're small enough to carry in a purse for those just in case moments.
Leggings
Leggings have got to be everyone's favorite fall layers, am I right ladies!? I practically live in these things! I love the softwear stretch leggings by Cuddl Duds for a layering legging. They're extremely lightweight and perfect for wearing under jeans, etc. when you really need an extra layer of warmth! It took me a while to find a good pair that didn't feel like anything was on, and I'm so thankful I finally found these. Their fleecewear leggings are also super warm with the brushed fleece fabric. These are great to wear layered under jeans as well, or on their own with a long tunic. I'm wearing the softwear stretch leggings in the photo above!
Long Cardigans
These timeless sweaters won't ever go out of style and are the perfect solution for a lightweight long sleeved layer, in my opinion! I love to layer long cardigans over the tunics I shared with y'all above, since the tunic is lightweight and not bulky at all. It's the perfect combo! I'm also loving this shearling cardigan!
Knitted Ear Warmers
Ear warmers are cute and versatile. They're easy to wear alone or under another layer of warmth like a beanie! I also like to carry these in my purse along with my leg warmers for those bipolar weather days when the mornings and nights are cool!
Do you like to dress in layers too? What are your favorite fall layers? 
SaveSave
SaveSave
SaveSave
SaveSave
SaveSave
SaveSave
SaveSave
SaveSave
SaveSave
SaveSaveSaveSave
SHOP THIS POST

Save
Save
Save
Save