This easy curry shrimp recipe post is sponsored by Tai Pei. All opinions expressed are my own.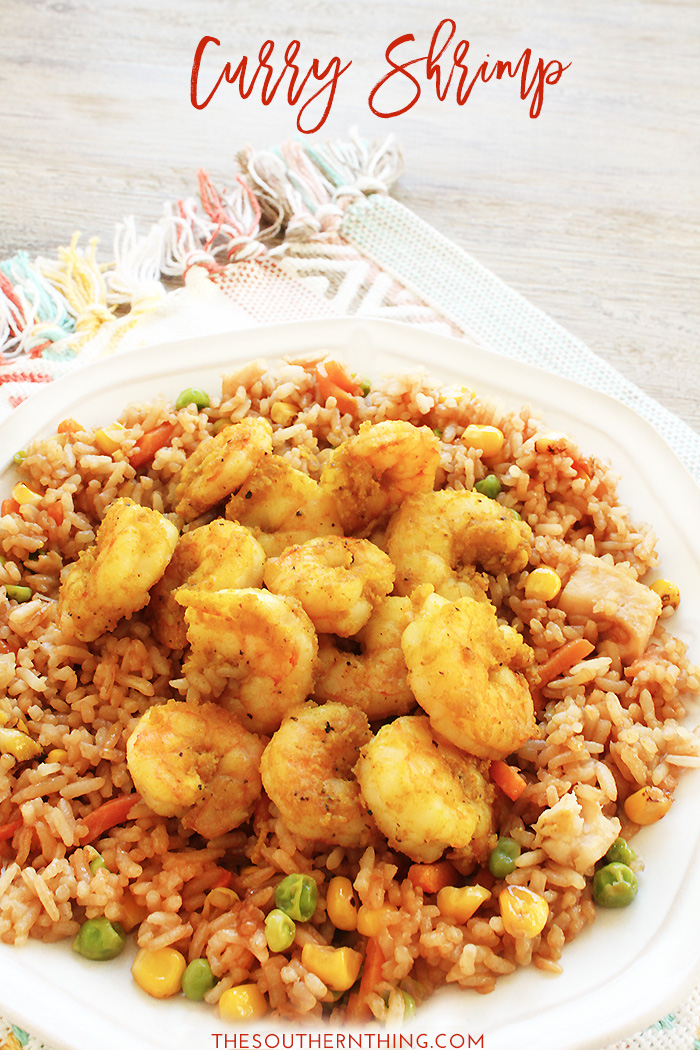 I've always been a fan of curry chicken. It has been a repeating menu item in our household for a while now, and it especially comes in handy on busy nights that call for a super quick meal.
As much as I love seafood, I don't know why it took me so long to decide to try to make curry shrimp, but I finally did and now I'm mad at myself for waiting so long! I used the same curry marinade for the shrimp that I normally use to make curry chicken, and really it's so versatile you can put it on just about any meat!
If you're wanting a quick ethnic meal option, then you're going to want to grab this easy curry shrimp recipe I'm about to share with y'all! For non-seafood lovers, remember, you can use the same curry recipe for chicken too!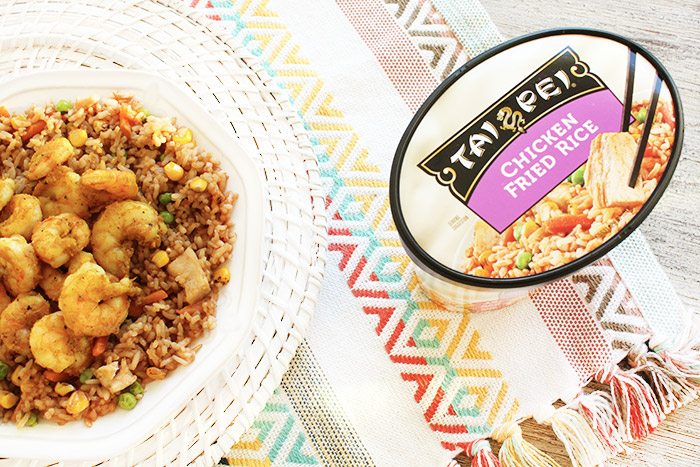 EASY CURRY SHRIMP:
Ingredients
– 1/2 lb fresh shrimp
– 3 tbs olive oil
– 2 tbs curry powder
– 1/2 tsp garlic salt
– 1/4 tsp pepper
– Tai Pei Chicken Fried Rice (for pairing)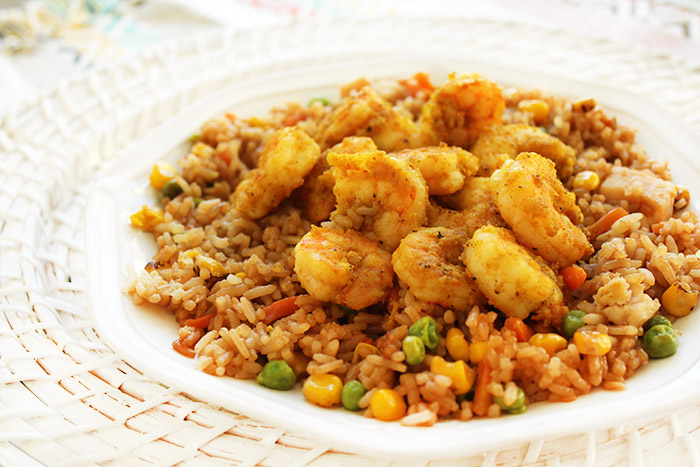 Instructions
1. Prepare the fresh shrimp (peel & de-vein) and set aside in a large bowl.
2. In a separate bowl, combine curry powder, garlic salt, and pepper, then mix.
3. Add the olive oil to the bowl of spices, then stir.
3. Pour the curry marinade mixture into the bowl of shrimp, then stir to evenly coat the shrimp.
4. Transfer the curry marinated shrimp into a sealable bag, then refrigerate for 30 minutes.
5. In a skill over medium heat, cook the curry shrimp for approx. 4 mins on each side, or until shrimp are done.
6. Serve on top or paired with fried rice.

Confession: I cheat when I make this recipe! Since I'm all for saving time in the kitchen and need to keep this recipe quick and easy (or I won't do it), I don't make the fried rice from scratch.
I've recently been using the new Tai Pei single serve frozen fried rice entrees since they can be prepared in minutes in the microwave, in the same bowl they're packaged in! These entrees are made with real ingredients and don't have any preservatives, so I still feel like I'm getting the real deal!
Tai Pei helps eliminate the boredom of typical everyday meals with a wide range of choices made with flavor-infused rice. You can find Tai Pei Asian Food in the frozen section at your local grocery using the store locator. Want to give it a try? Get $1 off!
Be sure to enter the giveaway below for a chance to win one of the 10 prizes ($100 Walmart gift card each)! The giveaway runs from 10/26-11/15/17.
SaveSave
Tai Pei Sweepstakes
I-C will randomly select 10 winners from all program entries and will facilitate fulfillment of the winning prizes.
SaveSave
SaveSave
SaveSave