This cranberry apple sweet tea post is part of a social shopper marketing insight campaign with Pollinate Media Group® and Milo's Tea Company, but all my opinions are my own. #pmedia #PassTheMilos http://my-disclosur.es/OBsstV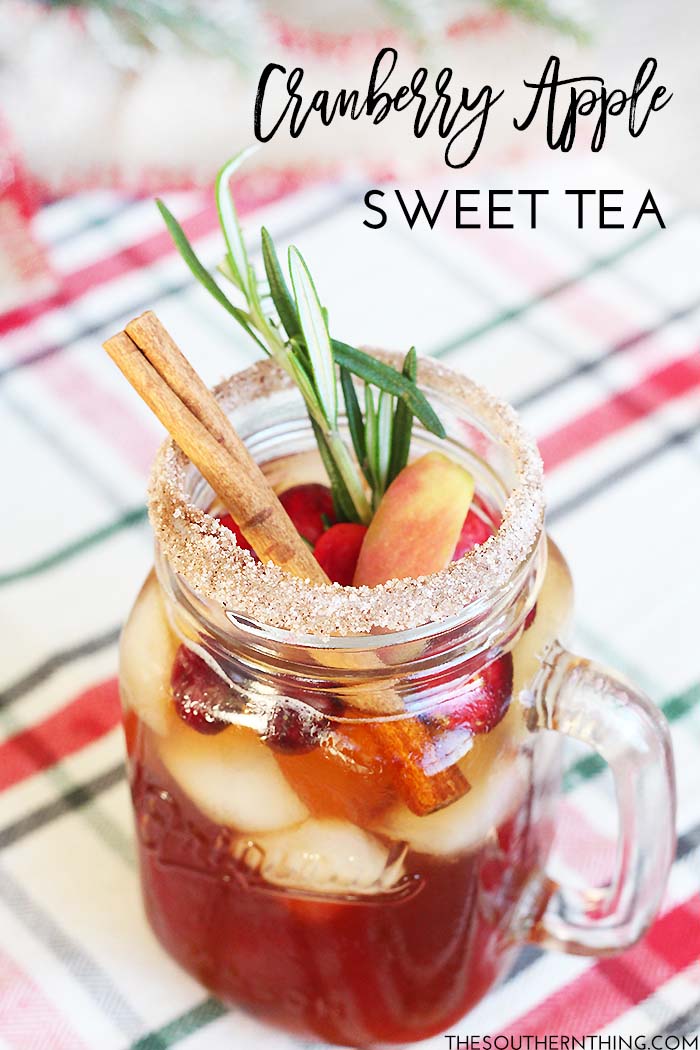 Rule #1 of the south: You must love tea.  Confession: I never liked tea up until about two years ago. Now I can't imagine life without it!
I finally understand the reason why sweet tea is a southern staple! One of the things I love about tea is how great it is on its own and how simple it is to jazz it up depending on the season.
Nothing says the holidays like a delicious holiday themed drink. Holiday drinks are my favorite to make, and this cranberry apple sweet tea recipe I'm about to share with y'all is one of my go-tos! It's such a festive addition to any holiday party or tablescape, which is why it has become my main go-to.
This cranberry apple sweet tea is basically Christmas in a cup, so be sure to grab the recipe below if you want to feel festive or impress your guests at your next holiday get together!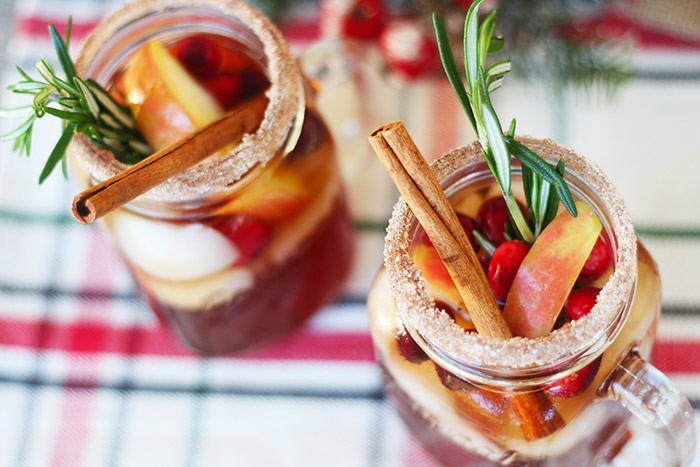 CRANBERRY APPLE SWEET TEA:
Ingredients
– Milo's Sweet Tea
– 1 cup cranberry juice
– 1/4 cup fresh cranberries
– 1 apple, sliced
– Fresh rosemary (optional for garnish) 
– Ground cinnamon (optional for garnish)
– Cinnamon stick (optional for garnish) 
– Sugar (optional for garnish)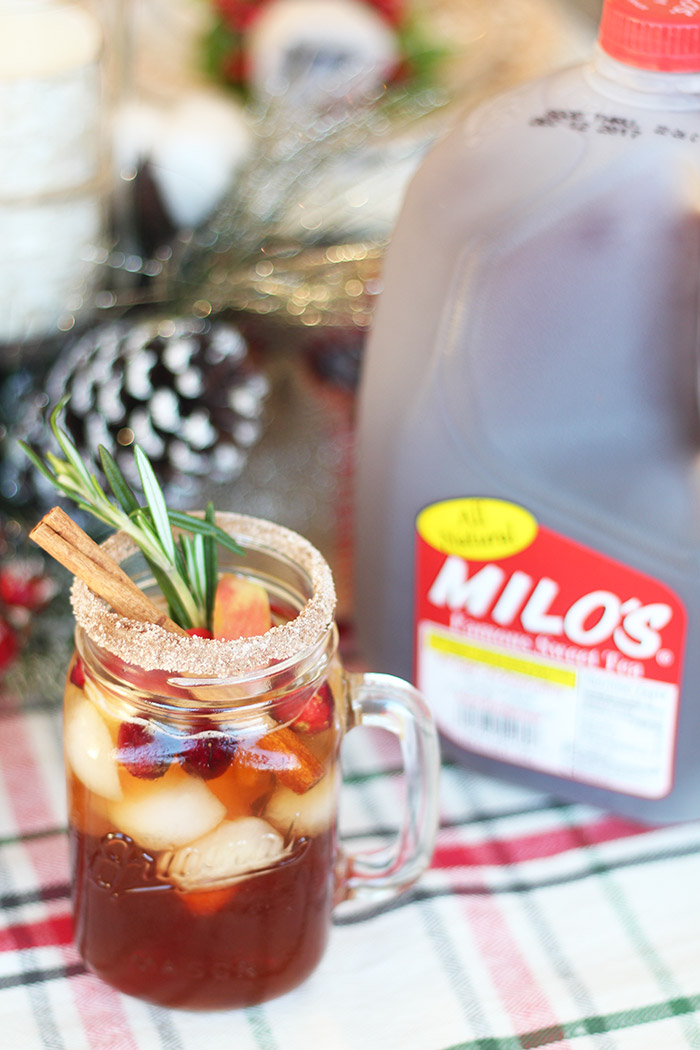 Instructions
Step 1:  Fill a large pitcher approximately 3/4 full with sweet tea.
Step 2:  Top the pitcher off with cranberry juice (about 1/2 – 1 cup).
Step 3:  Add the apples and cranberries into the pitcher of tea.
Step 4:  Combine cinnamon and sugar in a small mixing bowl, then spread onto a plate.
Step 5:  Wet the rim of a mason jar mug or glass, then dip into the cinnamon sugar mixture to coat.
Step 6:  Pour tea into glass, then garnish with fresh rosemary and a cinnamon stick.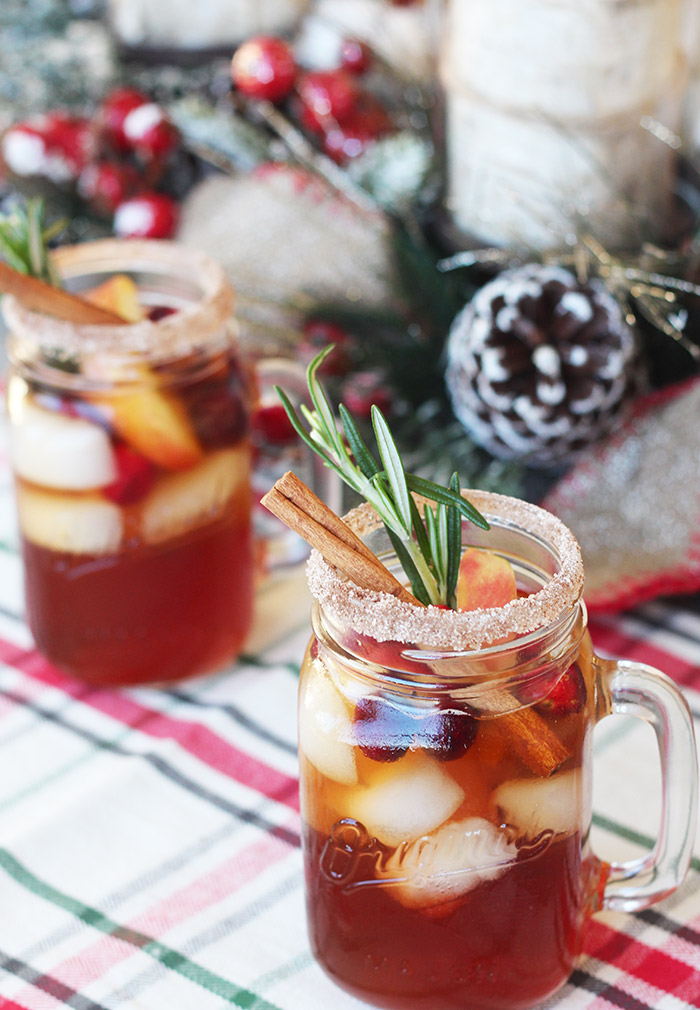 Optional: if you want more of cinnamon flavor, you can add a few cinnamon sticks into the pitcher of tea, but I personally enjoy the flavor of the tea as is!
Fun fact: The Milo's tea used in this recipe is fresh brewed and features natural ingredients (no preservatives or added acids) so this is a great option to use to save time during the holidays rather than brewing your tea! I rarely brew my own tea to be completely honest! This is the beverage for holiday entertaining since it's so convenient.
This tea is available sweetened with pure cane sugar, as no calorie and unsweet options, as well as lemonade, and a tea & lemonade mix, so you can really get creative with this cranberry apple sweet tea recipe if you want to! I found Milo's at my local Target in the refrigerated juice and dairy section, but it's available at lots of retailers. Find a store near you by using the store locator.
Another fun fact: Milo's Tea Company is a certified woman owned business located in Alabama.  Milo's was originally founded as a restaurant in the 40s with a simple philosophy of only using high quality, fresh, natural ingredients.  In 1989 they began selling their fresh brewed Famous Sweet Tea to local Alabama grocery stores and now these beverages can be found all across the U.S.! It's a true southern staple that can be enjoyed everywhere!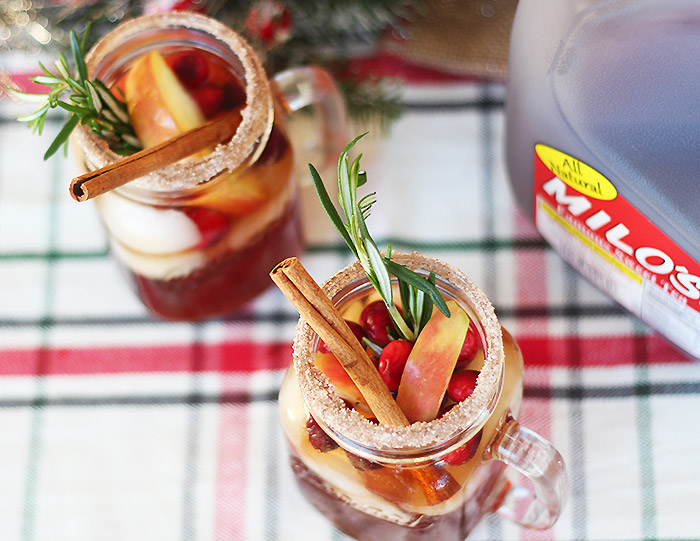 Will you be giving this cranberry apple sweet tea recipe a try!? If so, pin this recipe for later!
SaveSave
SaveSave
SaveSave
SaveSave
SaveSave
SaveSave