Many thanks to Clarins for sponsoring this anti-aging beauty tips post. All thoughts and opinions are my own.

The fight against aging and wrinkles can seem like a never ending battle for us ladies as time goes on.  Everyone wants to maintain their youth look, but as we all know, that's easier said than done! Or, so we thought!
Although we can't fully battle what our bodies have in store for us as we age, we thankfully can get proactive by making lifestyle changes that slow down the aging process!
The anti-aging beauty tips I'm about to share with y'all are easy lifestyle changes that anyone wanting to combat aging can make.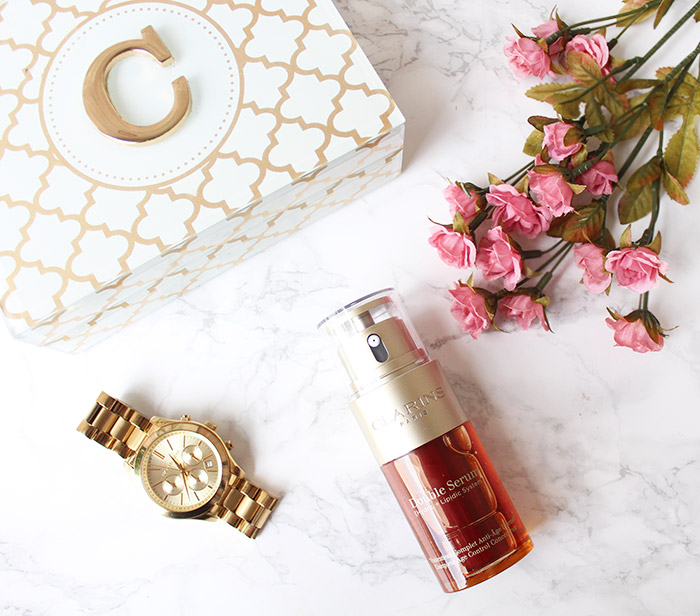 ANTI-AGING BEAUTY TIPS:
Wear Sunscreen or an SPF Foundation
It may be a good idea to get into the habit of wearing sunscreen if you haven't already!  A foundation with added SPF is your safest bet, that way your have protection on your face at all times, even on days you spend more time in the sun as expected.  Excessive sun exposure does damage to your skin and is a big contributor to wrinkles.
Get Enough Sleep
Sleep – we all need it, yet it feels so hard to get!  If you're looking for more reasons why you finally need to make a lifestyle change to get the proper amount of sleep at night, here's one more good reason to add to your list! It has been said that when you don't get enough sleep, your body begins to produce excess cortisol, which over time breaks down skin cells causing visible signs of aging.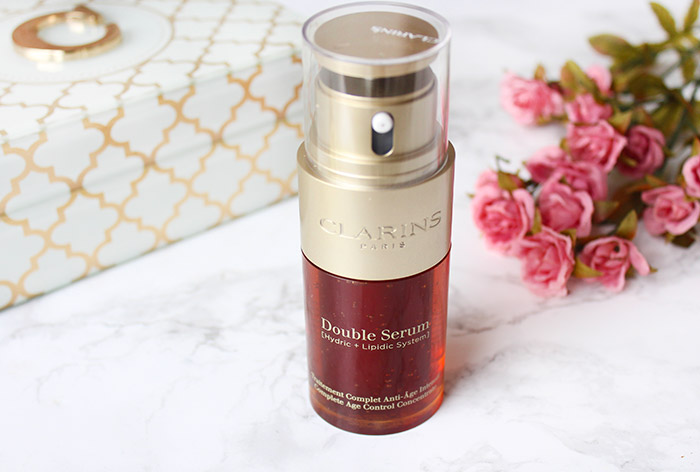 Add an Anti-Aging Serum to Your Beauty Routine
It's never too late to implement anti-aging products into your skin care routine, even if you can't visibly see signs of aging yet.  Being proactive is key! Whether you're trying to combat wrinkles, or just want to be proactive, an age control serum can work.
I recently added the new Clarins Double Serum into my skin care routine and so far I'm loving it!  If you're looking for a powerful anti-aging serum that' safe for all skin types and free of mineral oil, you may want to give this one a try!  Clarins Double Serum is packed with over 20 potent plant extracts that work to smooth and firm skin, revive radiance, and even skin tone. One thing to note is that this serum is formulated with turmeric, which is known for its exceptional anti-aging properties! I personally love that this product does not leave my face feeling sticky or greasy.  I'm so picky about that!
Don't Stretch Skin To Apply Makeup
It has been said that stretching your skin to apply makeup can cause damage and wrinkles.  This applies to pulling on your eyelids to apply liner, holding your mouth open to apply mascara, etc.  Some people have mixed feelings about this, but I think it's better to be safe than sorry! Some dermatologists recommend applying makeup with your face in a natural position so you don't create fine lines over time.
Don't Smoke
Along with the slew of other health risks involved with smoking, here's one more reason to not smoke! Researchers have discovered that cigarettes actually release an enzyme that breaks down the collagen and elastin of your skin.  This in return causing wrinkles, often visibly worse than those of non smokers.
Do you have any anti-aging beauty tips you'd like to share?  What are some ways you combat aging?
SaveSave
SaveSave