This football party wing bar shop has been compensated by Collective Bias, Inc. and its advertiser. All opinions are mine alone.  #HomeGateChamp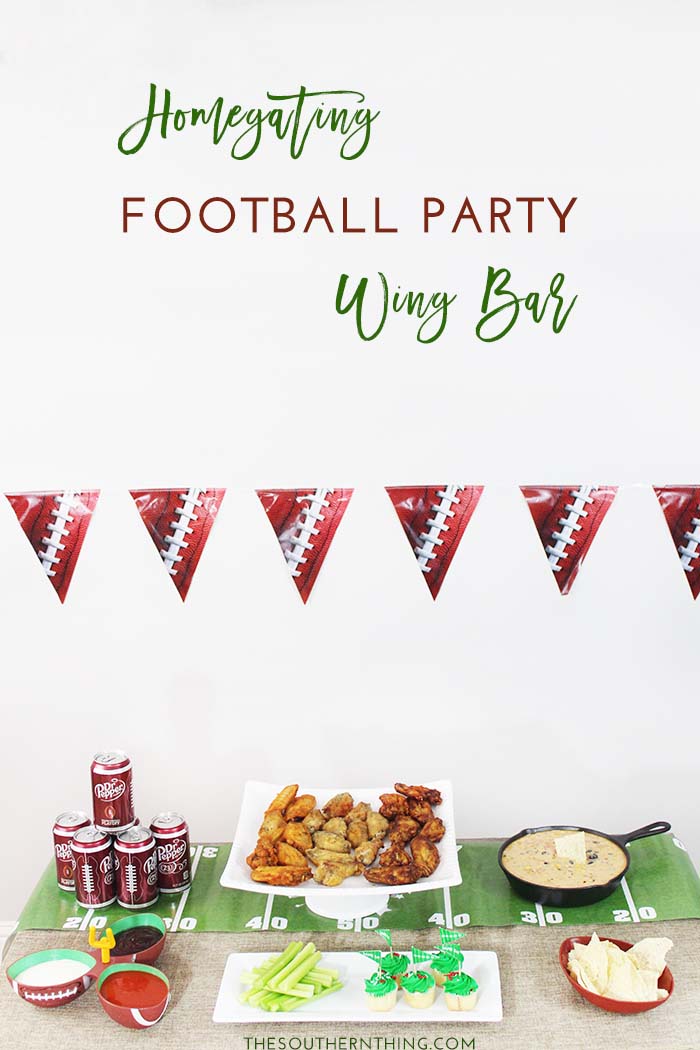 Down here in the south, we live and breathe football! Being an alum of a large university with an even larger passion for our football team, college football has become a major part of life for me! I like to go all out for the games, and now is the perfect time to do so with the College Football Playoffs being right around the corner!
If you're planning on hosting a homegating party for the College Football Playoffs this year and you're looking for a fun party tablescape idea, consider this homegating football party wing bar!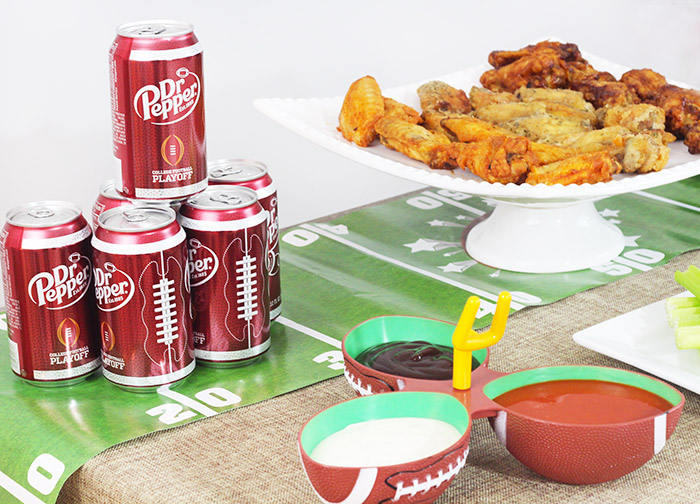 HOMEGATING FOOTBALL PARTY WING BAR
Wing Bar Featured Items:
– Variety of wings (I used buffalo, ranch, and teriyaki)
– Wing dipping sauce (I used hot buffalo, ranch, and barbecue)
– Dr Pepper® (a football party must – the playoff packaging is so festive)
– Skillet cowboy queso (see recipe below)
– Chips
– Celery sticks
– Cupcakes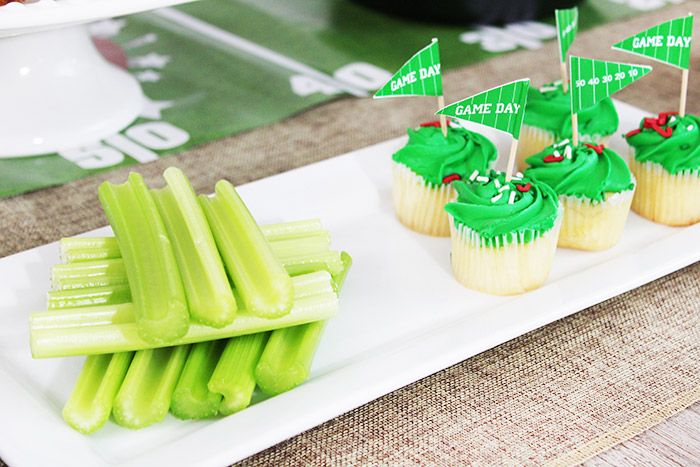 TIPS FOR PLANNING YOUR HOMEGATING FOOTBALL PARTY
Create a List
Prepping and setting up a football party wing bar is simple. Compile a list of everything you need, that way you only have to make one trip to the store. This will save you so much time in the long run!
Use a Grocery Pickup Service
*Pro Tip* Take advantage of Walmart's free grocery pickup service. This service allows you to order everything you need online and pick it up that same day. All you have to do is show up during your designated time and Walmart will load your groceries into your car for you. You don't even have to get out your car! This makes the party planning process super easy.
Keep Party Foods Simple
Stick to classics like wings and dips – they're safe choices that even the pickiest of eaters like, and are super versatile options that can be changed by way of a simple wing sauce or different items for dipping.
Shop for Party Decor Early
If you're hosting a homegating party, be sure to stock up on party decor early! The closer it gets to the playoffs, the more likely places are to sell out. A lot of places don't restock these types of seasonal items once they're gone, so make sure you don't miss out! Items like table runners, banners, decorative dishes, and food picks are great options to have and can always be reused.
Stock Up on a Variety of Drinks
An easy way to cater to your guests is to offer a variety of drink options. Water, soda, tea, and punch are great party options. Since Dr Pepper is an official sponsor of the College Football Playoffs, you can find football themed Dr Pepper cans at your local Walmart. Also check for the 2-liter football bottles as well. These are perfect for a football party tablescape since they're so festive looking and what's a football party without this fan favorite drink anyway!?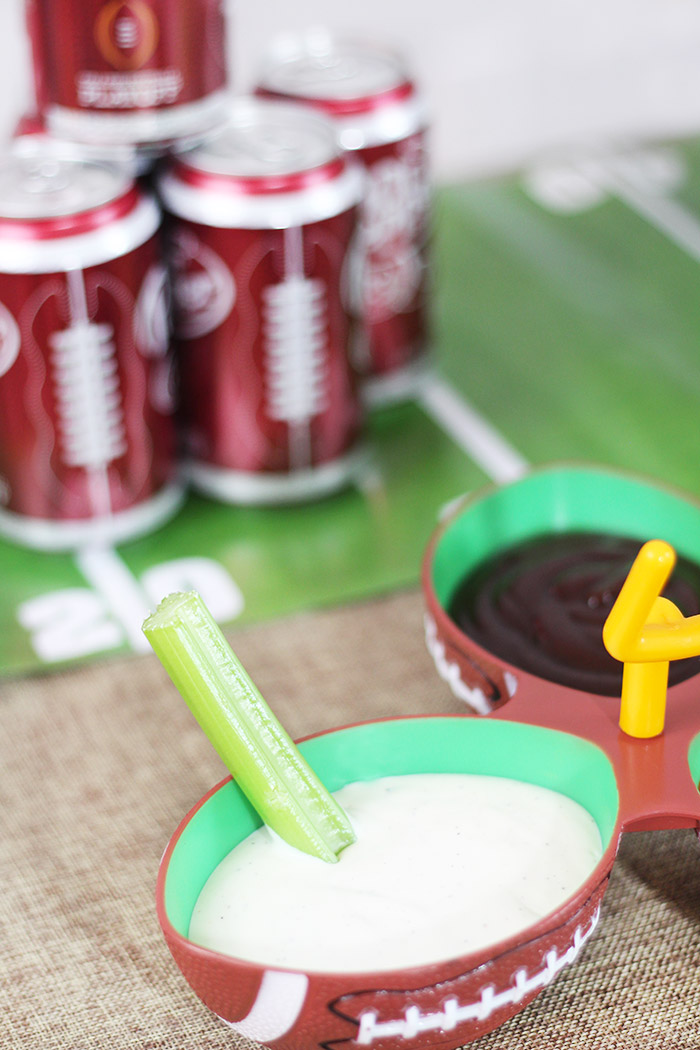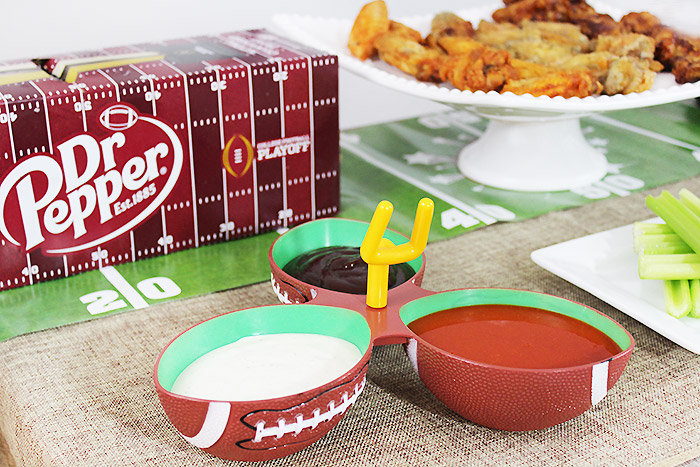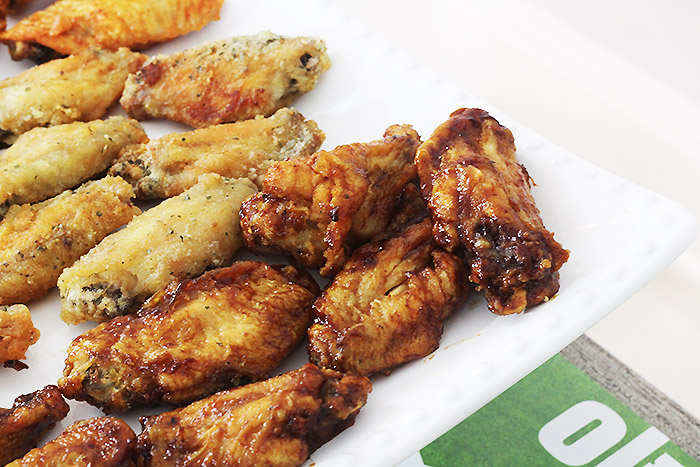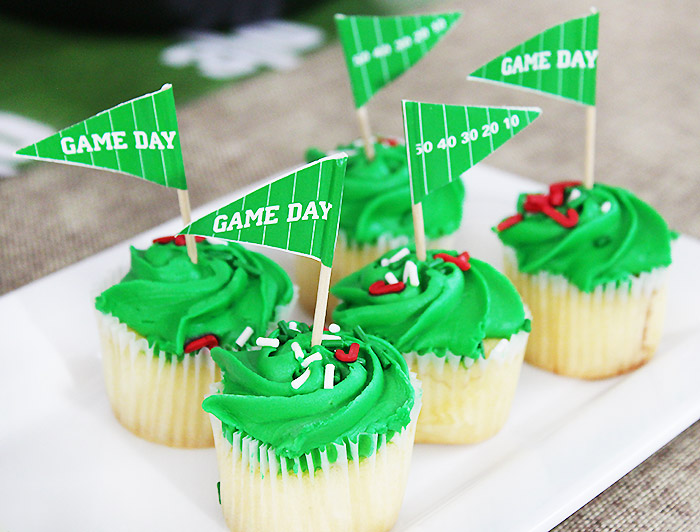 My go-to party dip is this skillet cowboy queso, which despite the semi-lengthy ingredient list, is very easy to make!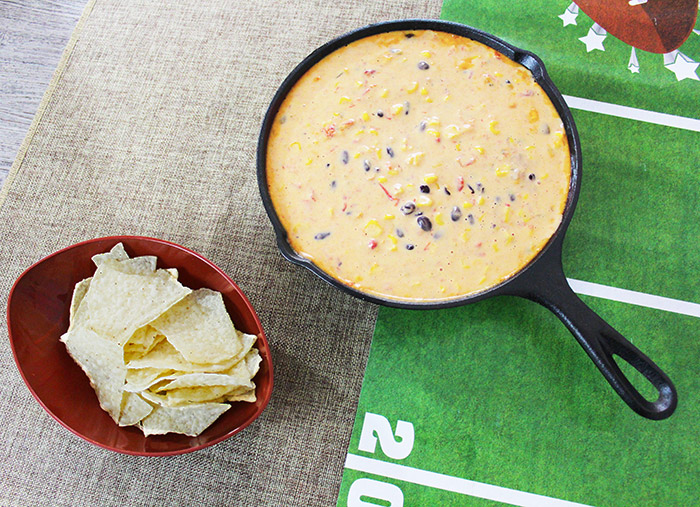 I call it a cowboy queso dip because of its southwestern flair of ingredients. It's delicious, so be sure to grab the recipe below.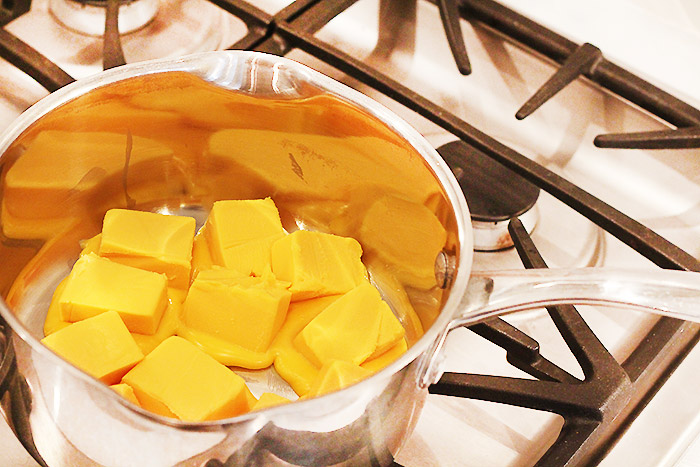 SKILLET COWBOY QUESO DIP
Ingredients:
– 16 oz block of melting cheese
– 10 oz diced tomatoes w/ chilis
– 1 lb ground beef
– 1 link crumbled smoked sausage
– 1 cup black beans, drained
– 1 cup whole kernel corn
– 1 tsp chili powder
– 1 tsp taco seasoning
– 1 tsp creole seasoning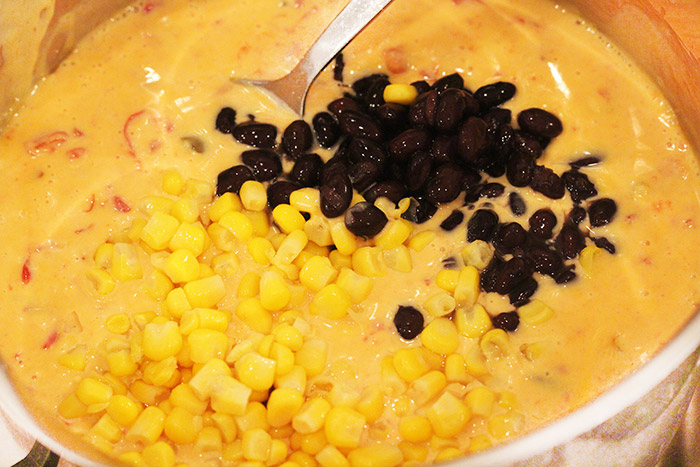 Instructions:
1. Preheat the cast iron skillet, then allow to cool until warm.
2. Cook ground beef in a skillet over medium heat until fully done and browned. Repeat for sausage, then crumble into tiny pieces.
3. In a separate saucepan, heat cheese until melted over medium-low heat, then reduce to low.
4. Combine ground beef and sausage into the melted cheese mixture, then stir in remaining beans and vegetables.
5. Add dry seasonings into the queso dip and stir well.
6. Continue to heat cheese mixture over low heat until fully melted and combined.
7. Transfer queso dip into a warm cast iron skillet.
*Optional – top with shredded cheese and bake in the oven at 350 degrees for 5 minutes.
8. Serve while warm and keep any leftovers refrigerated.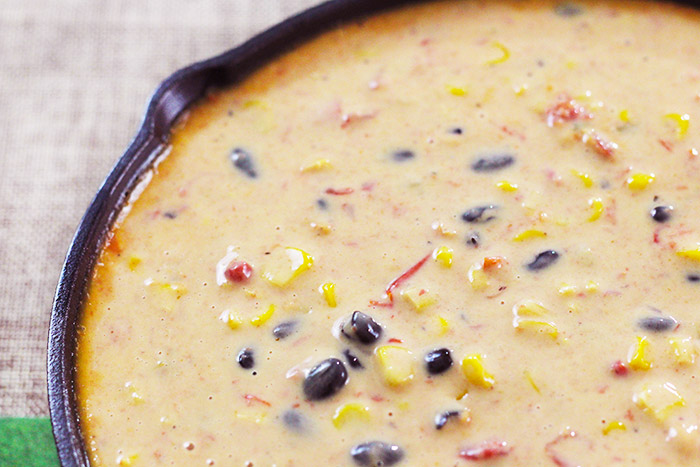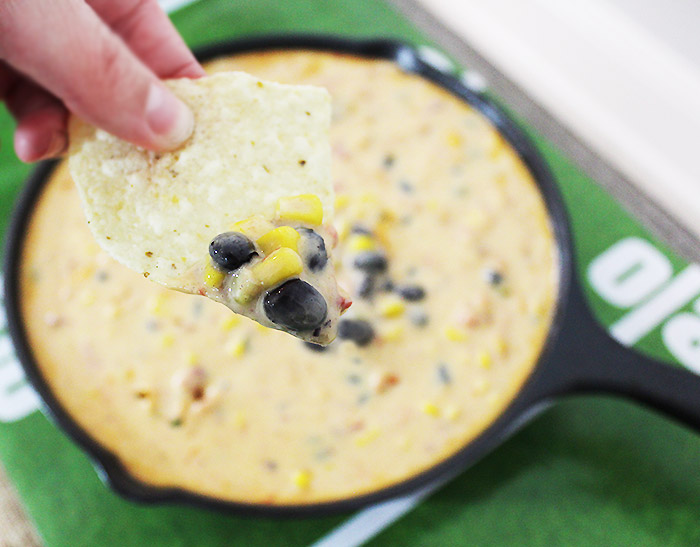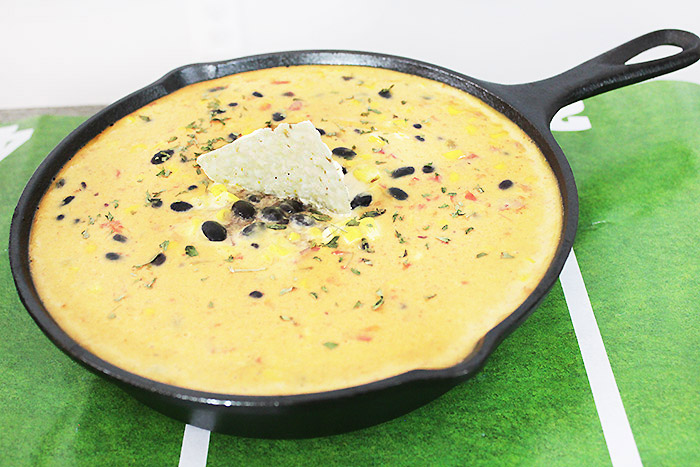 Does that skillet cowboy queso dip look delicious or what!? It's the perfect addition to any football party wing bar!
Want to give it a try!? Pin this recipe so you can make it later!
Looking for more homegating inspiration or a fun Dr Pepper event near you!? Click here!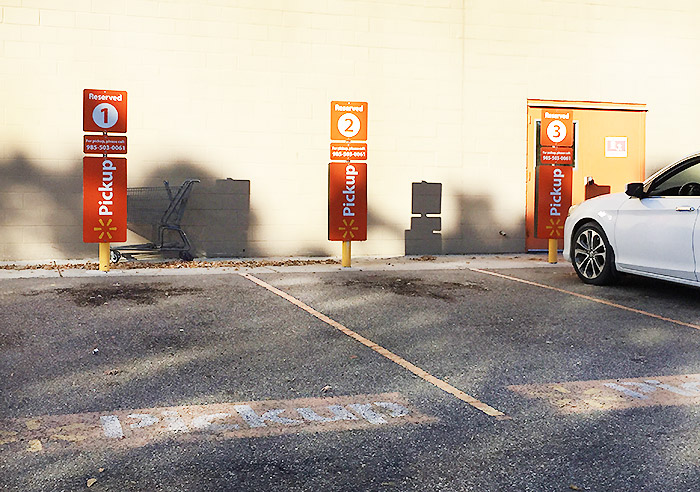 Will you be hosting a homegating football party for the upcoming College Football Playoffs!? Share your plans and go-to recipes below!
SaveSave
SaveSave
SaveSave
SaveSave
SaveSave
SaveSave
SaveSave
SaveSave
SaveSave
SaveSave
SaveSave
SaveSave
SaveSave
SaveSave
SaveSave
SaveSave
SaveSave