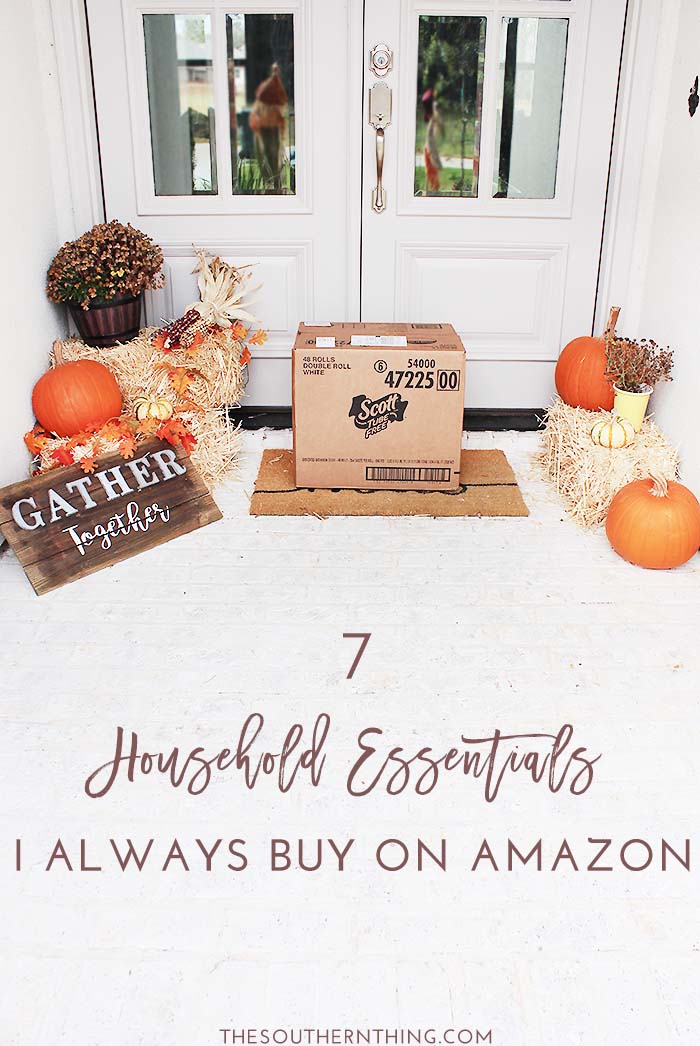 I've always dreamed of the day that I could open my laptop, click a button, and have everything I need show up to my doorstep. It's crazy to think that Amazon actually made that dream possible!
I honestly don't know what I'd do without the convenience of Amazon at my fingertips, but I do know I'd be making many more trips to the store for bulky things that take up my entire trunk! Take dog food for example. I literally used to dread having to go to the store to buy this. Lugging around a huge 30+ pound bag of food is never fun for anyone. You can bet that's now on my recurring Amazon shopping list! I use Amazon Subscribe & Save for these items – you get free shipping, convenient delivery on the schedule you set, and if you don't need it, you can cancel at any time!
Today I've rounded up a few of my favorite household essentials I always buy on Amazon for the sole reason of convenience and price. Not only do I not have to leave the house to shop, these things are also way cheaper! If you have an Amazon Prime account, put it to good use and save yourself some time and money on these home essentials!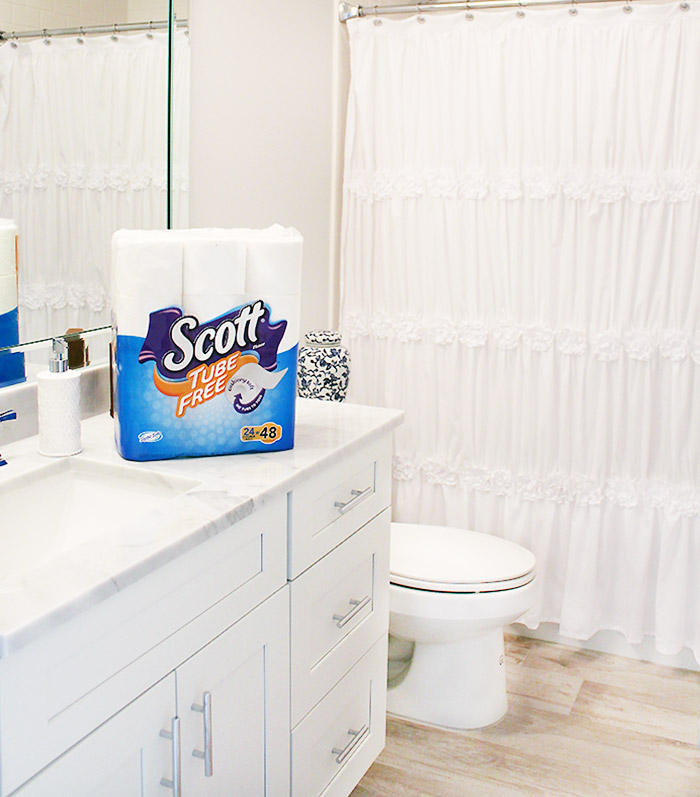 7 HOUSEHOLD ESSENTIALS I ALWAYS BUY ON AMAZON:
Toilet Paper
I used to loathe having to go to the store to buy more of this household essential, mainly because the bulky case never fit in my trunk and it's never an ideal situation to have to shove it in the back seat of a sports car, so now I just buy in bulk and get it delivered! Easy peasy. With Amazon Subscribe & Save, I just set it and forget it. I've found that Amazon has the best deals on Scott products, and right now you can save up to $2.50 off + up to 15% off with Subscribe & Save.
Paper Towels
I usually buy Viva paper towels in bulk on Amazon for the best deal! You can save even more using the Subscribe & Save for this too. Did you know that when you buy this product (Scott, Cottonelle, & Kleenex products are included too!) you are actually helping save the planet?! The Kimberly-Clark Corporation (parent company of these brands) has partnered with the World Wildlife Fund and the Forest Stewardship Council®  to raise awareness of the importance of choosing products that use fiber from responsibly managed forests. These products all come from responsibly managed forests that provide environmental and social benefits. Just look for the special Forest Stewardship Council (FSC) label on these products!
Kleenex
Kleenex is a must have household essential, especially during the winter and flu season! I always keep these stocked just in case. Get $2.50 off Kleenex products the next time you shop.
Dog Food
Like I mentioned above, dog food was one of the most dreaded things I used to buy in the store! Not only is my dog's favorite food much cheaper on Amazon, I don't have to carry a 30 pound bag across the store to checkout, across the parking lot to my car, figure out a way to get it in the car, and then from the car into my house. What a hassle! If you have pets, you should definitely consider getting it shipped right to your door for less! If you're worried you'll forget to reorder before your pets run out of food, just set up Subscribe & Save!
Laundry Detergent
The day I got 81 detergent pods, 240 dryer sheets, and a large pack of laundry scent boosting beads for under $30 on Amazon is the day I officially stopped buying laundry products in the store! I have laundry essentials set to auto-deliver and now I never have to worry about running out on a day I don't feel like leaving the house.
Batteries
Is it just me, or are batteries crazy expensive!? I just really don't like spending money on batteries! Since I live in the south, I always keep a variety of batteries stocked in case of an emergency during hurricane season, and Amazon by far has the best prices. Their own line of batteries is a great deal.
LED Bulbs
Although with today's technology, LED bulbs don't go out as often as the old school light bulbs we grew up with, it's still good to keep this household essential stocked just in case! The best deal for LED bulbs is the Amazon Basics. The good thing is you shouldn't have to buy these often!
Do you have any favorite household essentials you always buy on Amazon? Let us know in the comments if you've seen some good deals! Don;t forget you can save additional money on these products too! 
SaveSave