This benefits of using mineral makeup post is a sponsored post written by me on behalf of jane iredale – THE SKINCARE MAKEUP™. All opinions are 100% mine.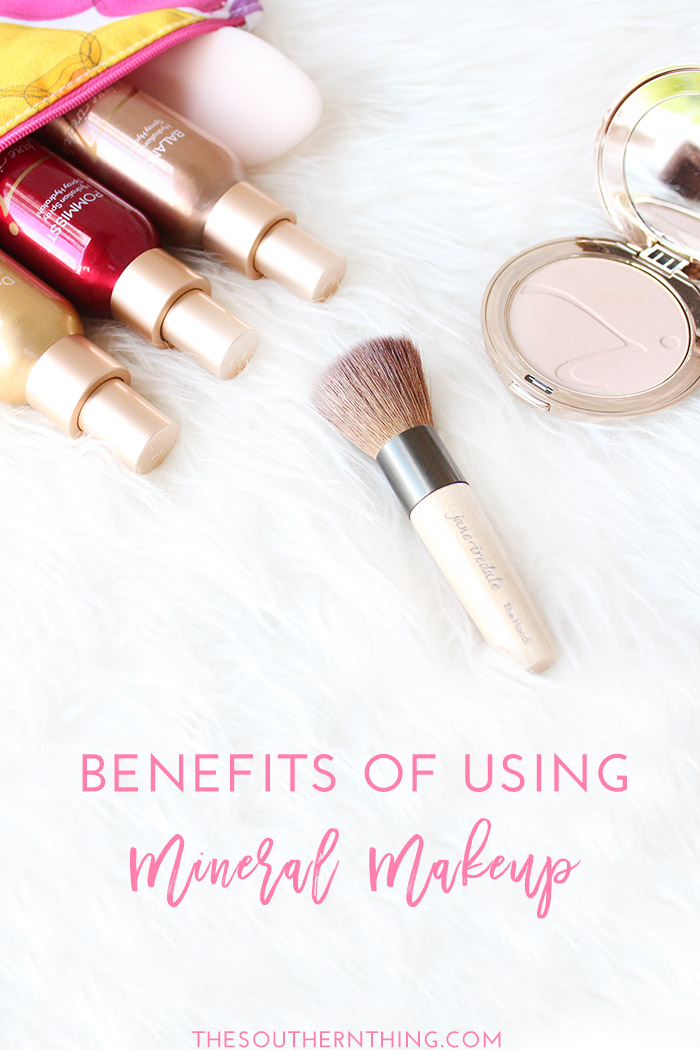 With so many different types of makeup to choose from these days, it's hard to figure out which one is the best for you.  There's anything from liquid formulas to natural mineral makeup.  Today let's talk about the latter!
There are many benefits of using mineral makeup.  Those that have used mineral makeup before I'm sure would agree, and those that haven't yet tried it, need to, in my opinion!
If you're looking for a versatile foundation with minimal ingredients, mineral makeup may just be the thing for you.  Check out some of the benefits of using mineral makeup listed below.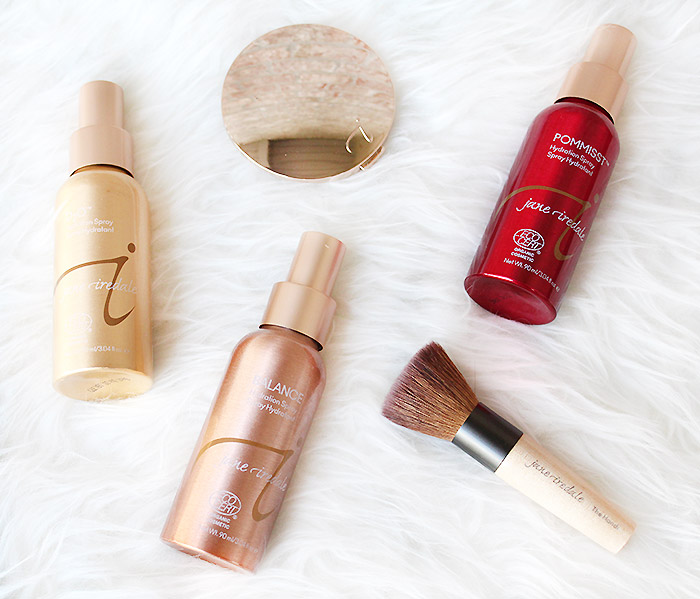 THE BENEFITS OF USING MINERAL MAKEUP:
Contains Clean Ingredients
Mineral makeup is made with minimal, clean ingredients.  These natural ingredients provide skincare benefits such as sun protection, antioxidants, and botanicals that nurture and protect your skin.
Provides Versatile Buildable Coverage
Mineral makeup is lightweight and versatile for all occasions.  It can be used as a concealer or for full coverage.  You can easily go from sheer to full coverage without getting a heavy caked on look.
Easy To Apply
Mineral makeup, specifically mineral foundation, is much easier to apply than other foundations.  It easily blends in with your skin which provides a more natural look.
Good for All Skin Types
Since mineral makeup does not contain the harmful chemicals and skin irritants that are often found in other types of makeup, it's generally suitable for all skin types, from the most sensitive of skin to the oiliest.
Provides Natural Sun Protection
One of the many benefits of using mineral makeup is the natural sun protection that comes along with it, thanks to the common ingredient, zinc oxide.
Allows Your Skin to Breathe
Mineral makeup is lightweight while still providing generous coverage, which means it doesn't block and clog pores like other heavier makeups.  This in return allows your skin to breathe, meaning less breakouts!
I recently had the pleasure of trying the PurePressed® Base Foundation and Hydration Sprays from jane iredale and I instantly fell in love with the line for all the reasons mentioned above! Did I mention jane iredale is cruelty free!?
The PurePressed Base Mineral Foundation is made with only clean ingredients and comes in 24 different shades for all skin tones. It provides sheer or full coverage when needed, has nurturing skin benefits and sun protection, and is lightweight, water-resistant, and long-lasting.
The jane iredale Hydration Spray, which is meant to be applied after foundation, helps to set your makeup and create a long-lasting finish.
We've been having miserably hot and humid weather here, so the last thing I want is to feel like makeup is melting off my face.  This mineral makeup couldn't have come into my life at a better time! After wearing it for a week, I could already feel the difference and the benefits of using mineral makeup. I felt confident in knowing I was covered, but best of all I didn't feel like a cake face! Perfect timing!
Want to give it a try?  See below for how to apply jane iredale makeup.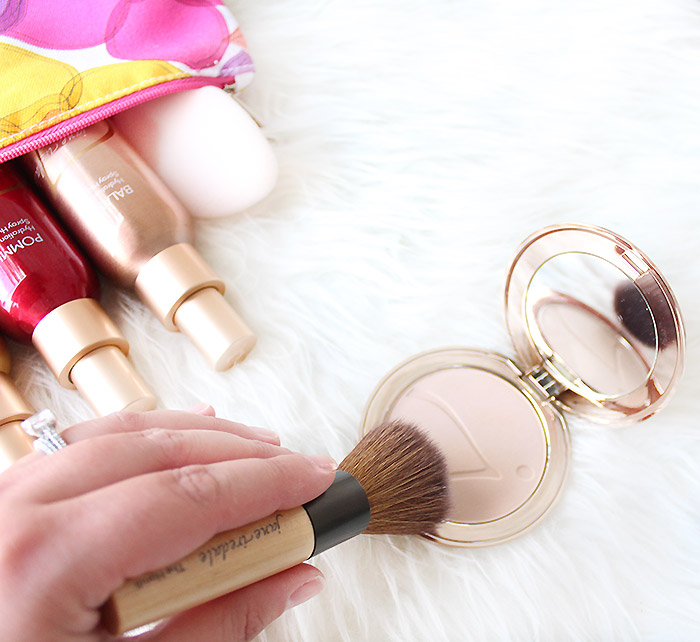 HOW TO APPLY MINERAL MAKEUP:
For Foundation
For normal light to medium coverage, apply the PurePressed® Base Mineral Foundation using downward strokes with The Handi™ Brush pictured above.
To Use as a Concealer or For Full Coverage
Apply using the Flocked Sponge.  Gently press and roll the mineral product onto the area where coverage is desired.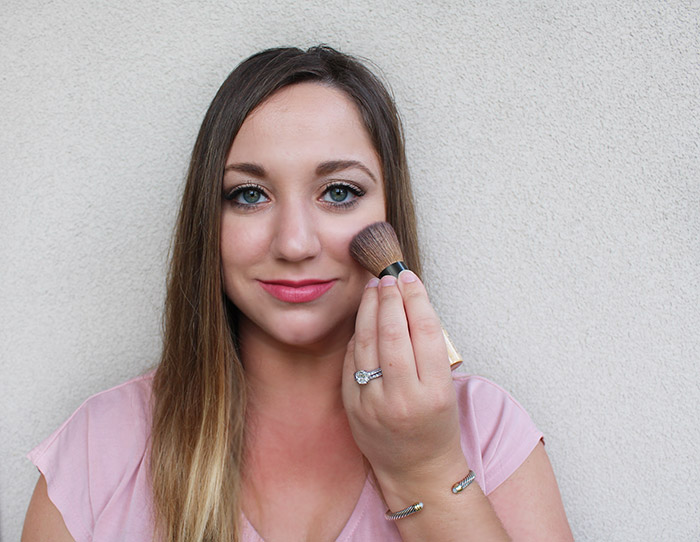 Finishing Spray
After applying the mineral foundation, finish with a spritz of Hydration Spray of your choice. Repeat for added coverage.
jane iredale Hydration Sprays are all ECOCERT Natural and Organic certified.  Each Hydration Spray has its own unique aromatherapy and skincare benefits, so be sure to check them all out  to see which is the best for you.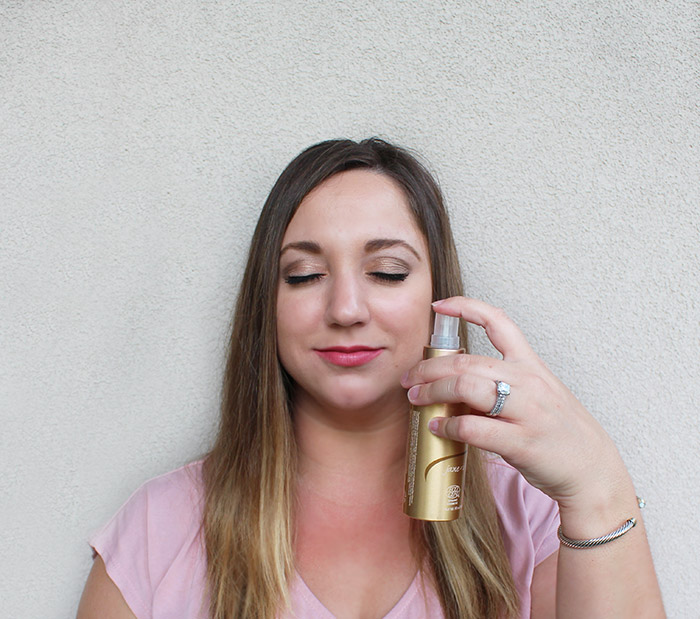 Interested in learning more bout the jane iredale difference?  Shop at janeiredale.com for fast, & free shipping!
Were you aware of the benefits of using mineral makeup?  Have you ever tried it before?
SaveSave
SaveSave
SaveSave
SaveSave