This French wine and cheese board post is sponsored by The French Ministry of Agriculture, but the content and opinions expressed here are my own.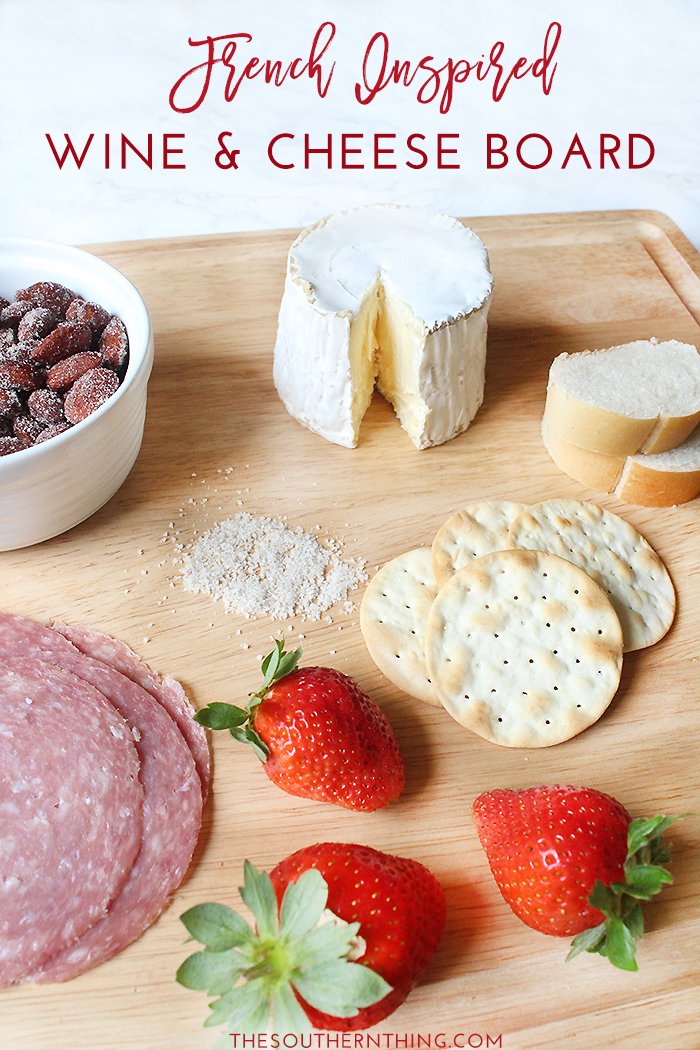 Wine and cheese!  Is there even a better combo than that!?  I think not! Summer is in full swing and it's time to celebrate, the French way!
If you're looking for food and wine ideas for a summer day date, girl's night, or evening snack, look no further because I've got you covered with a French wine and cheese board that's perfect for any occasion!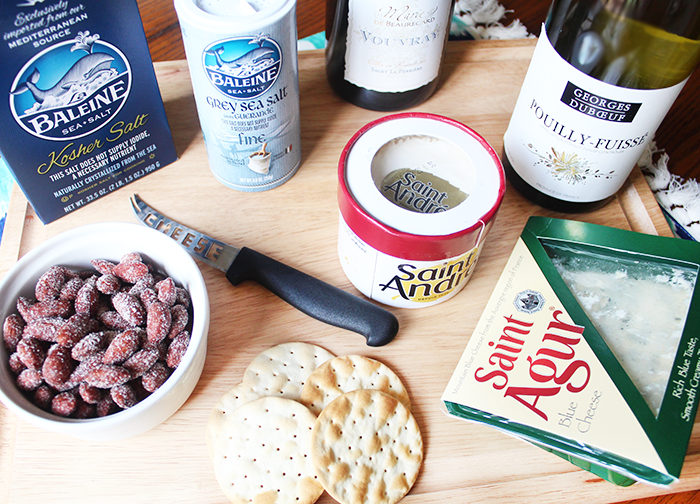 Last week Chris and I took another much needed break from house building and took advantage of one of the first dry evenings we've had in a while and had a summer day date!  We packed up some of our favorite French wines, cheeses, and other fruits, crackers, and meats and headed to the lake for a relaxing evening! It was the perfect way to spend the day, if I do say so myself!
Below is what our French wine and cheese board looked like!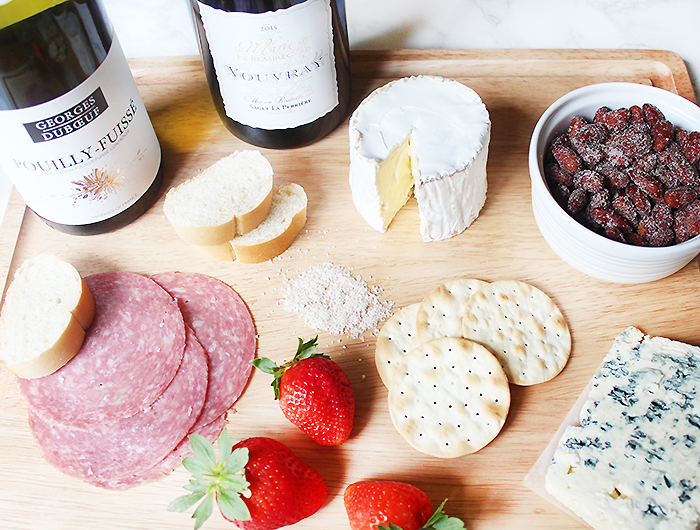 If you're looking to make a similar French wine and cheese board, here's a breakdown of everything I used to create this!
FRENCH WINE AND CHEESE BOARD:
– George Duboeuf Beaujolais-Villages 2015
– Georges Duboeuf Pouilly-Fuissé 2015
– Marie de Beauregard Vouvray 2015
– Marie de Beauregard Chinon 2015
– La Baleine fine grey sea salt
– Honey roasted almonds
– French bread
– Strawberries
– Salami
– Wafer crackers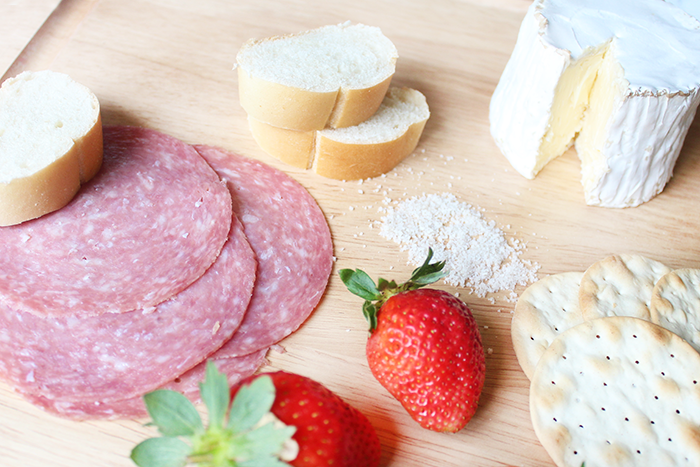 Bastille Day is right around the corner (July 14 to be exact), so I decided to get in the spirit by incorporating some French wine and cheese.
What I love most about this French wine and cheese board is that many of the items are imported from France, but are actually very affordable!
Here's a little background on the various items I used:
GEORGES DUBOEUF WINE:
This wine dates back to 1964 and originates from a family owned winery located in the Beaujolais region of France.
George Duboeuf Beaujolais-Villages 2015 is a French wine made from 100% Gamay (a light bodied red wine with a similar taste to Pinot Noir).  It  has notes of ripe strawberry, black currant, cherries, raspberries, and a smooth velvety feel and a touch of cinnamon.  It is a great pairing for cheese and charcuterie, burgers, grilled chicken, or salmon.  It is best served lightly chilled.
Georges Duboeuf Pouilly-Fuisse 2015 is made from 100% Chardonnay.  It has notes of the grape from the southern part of Burgundy and aromas of roasted almonds, peach and pear.  It's a great value compared to pricier white Burgundies.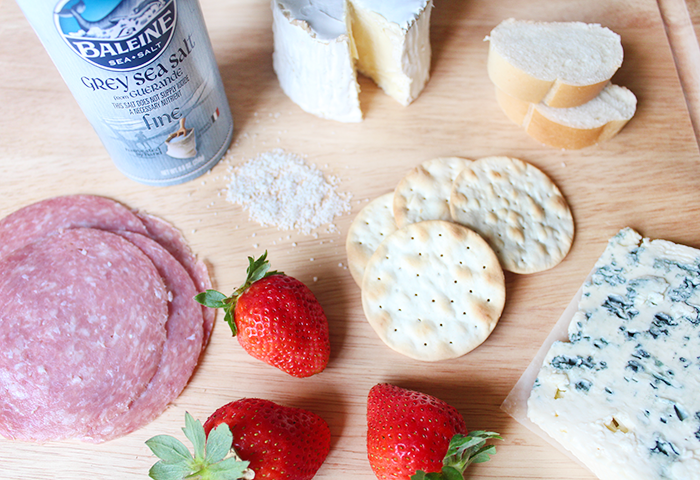 SAGET LA PERRIÈRE
Saget la Perrière signature brands epitomize the accessibility and freshness of Loire wines.
Marie de Beauregard Vouvray 2015 is a 100% Chenin Blanc wine, which comes from an estate near the city of Vouvray.  It has notes of chalk and flint, followed by a burst of ripe pear, acacia honey, candied fruits and lemon with a silky texture.
Marie de Beauregard Chinon 2015 is a 100% Cabernet Franc wine that is barrel aged for 9 months.  It is fruity with aromas of blackberry and cassis, and is perfectly blended with woody notes.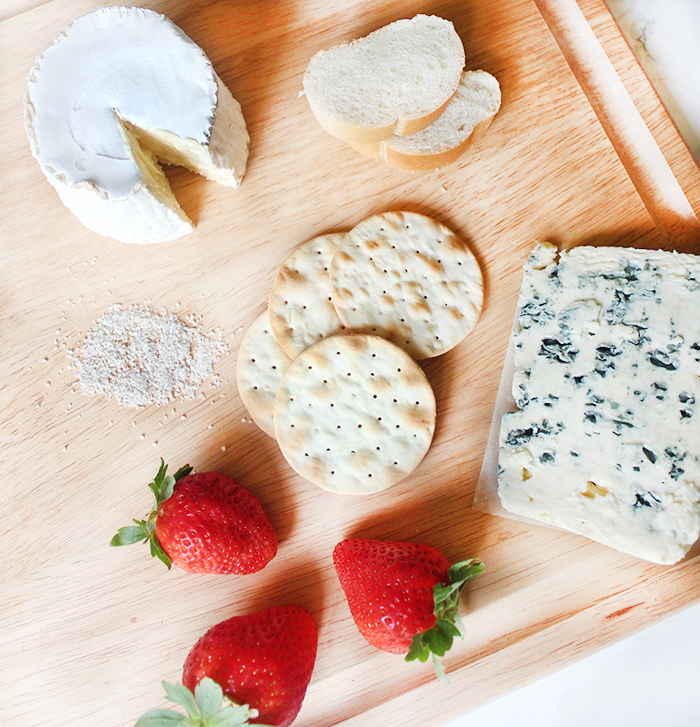 ILE DE FRANCE CHEESE
The Ile de France® brand is a top seller in the United States. It is available at gourmet stores and supermarkets.
St. Andre Brie is a soft ripened triple cream French cheese that gets its salty tang from the ocean air that blows through Normandy's coastal pastures.  It turns smooth and creamy as it ages.  It is great paired with both sweet and savory sides, Loire Valley wines, champagne, beer, cheeseboards, fruits, crackers, chocolate, and bread.
St. Agur Blue Cheese is a unique and intense cheese with a smooth buttery finish. The rich mountain milk is collected daily from the Auverge region where cows graze over 120 varieties of grass and flowers.  Blue cheese is typically made from goat's milk, which can make cheese rather dry, but this particular blue cheese is derived from cow's milk, which makes it much creamier.  It is great in salads, over steak and potatoes, or plain on a cheese board.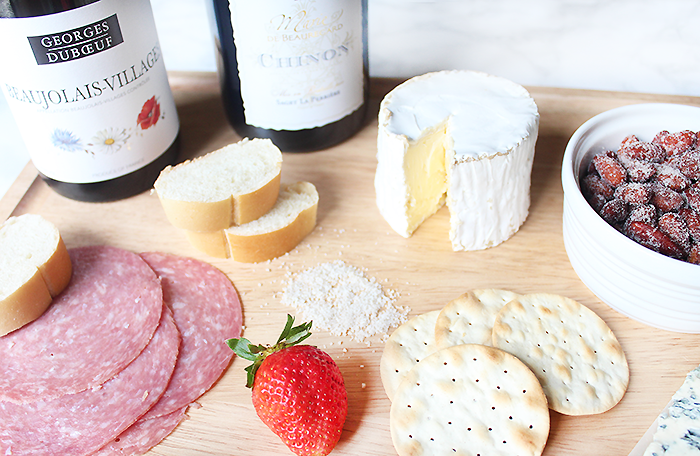 LA BALEEN
La Baleine sea salts are environmentally friendly salts made from the combined action of the sea, sun and wind.  Once a year, the salt stretches as far as the eye can see and is then carefully collected in order to preserve its unique taste and character.
La Baleine Kosher sea salt was the first sea salt in the U.S. market more than 30 years ago.  It's the purest sea salt on the market and makes perfect salt crusts for meat, seafood, and vegetables.
La Baleine fine grey sea salt is a very rare, hand harvested grey sea salt from the only place possible, Guerande.  It is a great table salt, and can also be used for cooking and baking.
Do you have any favorites to include in a French wine and cheese board?  What are your go-tos?
SaveSave
SaveSave
SaveSave
SaveSave
SaveSaveSaveSave
SaveSave
SaveSave
SaveSave
SaveSave
SaveSave