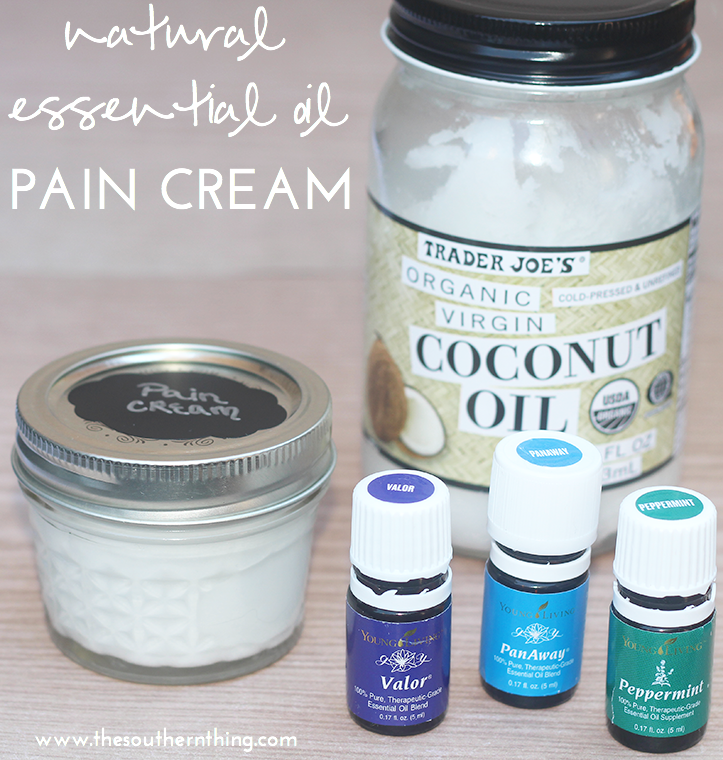 Sometimes I'm convinced I have the body of an 80 something.  When the weather changes, my joints hurt.  When I sit in an office chair for hours straight, my back hurts.  If I go to the gym and workout after a short hiatus, I can't move the next week.  If I go bowling, I won't be able to use my wrist the next day. Hi, I'm Dara, and I'm 25 going on 85.  It's a not so fun cycle, but it is what it is.  Those are just some of the reasons I'm thankful for this amazing essential oil pain relief cream I'm about to share with y'all!
When I'm feeling more like an 80 something rather than a 20 something, I turn to my beloved essential oils and this DIY essential oil pain relief cream recipe.  The best part about it this pain cream is it's natural and great for alleviating minor aches and pains, relaxing muscles, and supporting healthy joint function.
If you're an essential oil user, chances are you probably already have the three oils needed to make this DIY essential oil pain relief cream.  PanAway and Peppermint both come in the Premium Starter Kit and Valor is one of everyone's favorite must have oil.  If you don't already have these three oils, add them to your list, because they are great everyday essential oils!


DIY ESSENTIAL OIL PAIN RELIEF CREAM:
INGREDIENTS
1/4 Cup Organic Virgin Coconut Oil
10 Drops Valor Essential Oil
10 Drops PanAway Essential Oil
10 Drops Peppermint Essential Oil
Small Glass Mason Jar
INSTRUCTIONS
In the glass jar, whip up the solid coconut oil with a fork until it becomes a creamy texture.  Add in each essential oil and mix together.  Store in a cool, dark place when not in use.  *Remember to always store essential oils and essential oil blends in glass, not plastic!  For this recipe, you will want solid, non fractionated coconut oil to achieve a creamy texture.
To get the most out of your essential oils, make sure you are using high quality, 100% pure, un-adulterated essential oils.  I only use and recommend Young Living Essential Oils for a variety of reasons listed here.
If you're looking to buy the best essential oils, click here!
New to essential oils?  Check out Essential Oils 101: A Beginner's Guide to Essential Oils and this post on getting started, choosing, and saving money on essential oils.
The information, advice, statements, and testimonials made about the essential oils, blends, and products mentioned on this web site have not been evaluated by the United States Food and Drug Administration (FDA).  Any suggestions made on this site are very specific to Young Living essential oils and should not be used with oils from another source. Information presented is for learning purposes only.  The information on this site and the products listed are not intended to diagnose, treat, cure or prevent disease, nor are they intended to replace proper medical help. It is always recommended to consult with a healthcare professional before starting any regimen with essential oils or making any changes to a medical routine.  If you are currently on medication, please do not stop. Testimonials are based on individual results and do not constitute a guarantee that you will achieve the same results. What works for one may not work for another.