This my self care routine post is sponsored by Aveeno, but the content and opinions expressed here are my own.  Enter to win a grand prize wellness retreat for two and a year's supply of Aveeno products!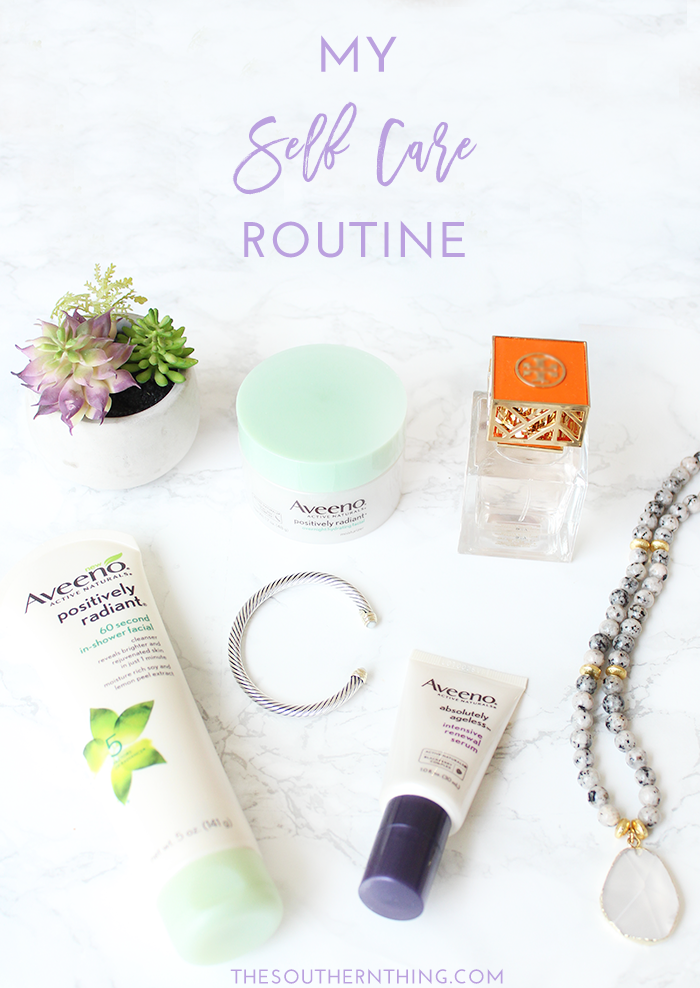 When life would get busy, I'd often forget to take some much needed time for myself.  Self care is so important, but at times it seemed easier to put it on the back burner.
One thing I've learned about myself over the years is that I need self care, a moment for me.  It really does the mind and body good, plus it's been proven that self care makes you more emotionally and physically capable of taking care of others.
A little goes a long way when it comes to taking time for yourself, so really there's no excuse not to! As little as 30 minutes to yourself can have a big impact on the rest of your day or week, and the time is reasonable enough, despite how many things are on your to-do list.
I work best in all aspects of my life when I'm relaxed and de-stressed, so I'm sharing my self care routine below in hopes that the next time you feel you need a moment, you can remember to take time for yourself too!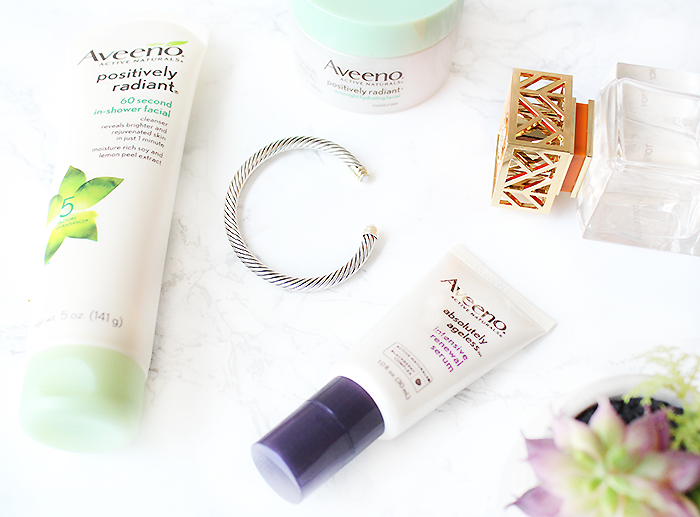 MY SELF CARE ROUTINE:
At-Home Facial
I always make my skin care routine a priority.  I've learned enough lessons years ago in college when I would skip my skin care routine one day and end up with unwanted breakouts for the rest of the week!  So now, no matter how tired I am, I always take my makeup off at night and wash my face properly.
Taking care of ourselves to stay beautiful and healthy looking is part of how many of us feel our personal best, but it's not always easy to make that time for ourselves.  I try to go above and beyond a basic skin care cleaning routine and be proactive.
This means setting aside time to wear a deep cleansing mask, applying a special serum against aging, or allowing my skin extra time to moisturize, because I know when I look my best, I feel my best!  I enjoy taking care of my skin, so this is how I get my me time in at nights at home!
I personally love using the Aveeno® Positively Radiant®Aveeno® Positively Radiant® 60 Second In-Shower Facial since it quickly targets all 5 problem areas: tone, texture, dullness, blotchiness, and brown spots. I usually follow up with the Aveeno® Intensive Renewal Serum and the Aveeno® Overnight Hydrating Facial.  It's amazing how much better I feel after this!
Get a Pedicure
I always use my time at the nail salon for a pedicure as a moment to relax and not think about anything!  When I want to treat myself, I'll go for the upgraded pedicure that usually includes some type of stone massage or hot wax.  It's very relaxing!
Try a New Recipe
I have a love-hate relationship with cooking!  Sometimes I don't want to be bothered with it, but sometimes I absolutely need to cook or bake something to de-stress.  Usually it's the latter!
I love (most of the time!) spending time in the kitchen baking a new recipe.  I usually look on Pinterest, or recent blog posts I've read for recipes to save for later when I want to enjoy some alone time.
When I need to get my mind off of things or just need time to myself, shopping always does it for me! This can be anything from shopping at the mall, window shopping around town, or even online shopping and saving things to my home inspiration Pinterest board!  I love this time to myself.
Go for a Walk
Walking is a great way to relax, as I'm sure most of you would agree!  I like to change things up by walking around the lake or different parts of town, or taking the dogs out for a walk with me. The fresh air is always a nice change and makes for a great setting to reflect on your thoughts!

Now that I've shared my self care routine, it's time to share yours! What are some ways you like to take a moment for yourself?  Remember, a little goes a long way, so be sure to make yourself a priority!
Enter for a chance to win a grand prize wellness retreat for two and a year's supply of Aveeno products!
Click here to visit the Aveeno #MomentForMe microsite for full entry instructions and rules.
SaveSave
SaveSave
SaveSave
SaveSave
SaveSave
SaveSave
SaveSave
SaveSave
SaveSave
SaveSave
SaveSave
SaveSave
SaveSaveSaveSaveSaveSave
SaveSaveSaveSave
SaveSave