This DIY planner band pen holder shop has been compensated by Collective Bias, Inc. and its advertiser. All opinions are mine alone. #PilotYourLife #CollectiveBias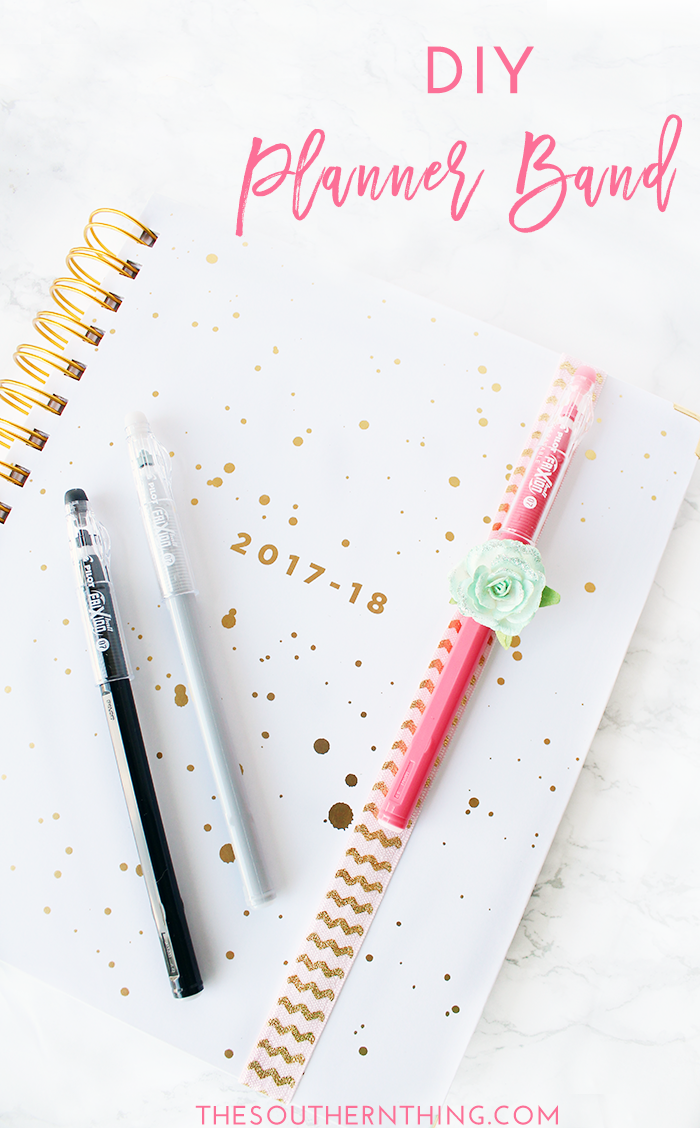 I don't know why I didn't think of doing this sooner, but I wish I had made a planner band pen holder like this back when I was in college!  Have you ever seen such a thing before!?  It's an elastic band that fits around your planner and serves as a pen holder on the outside and a page holder on the inside!  No more flipping through a year's worth of planner pages to find your current week when you have a planner band!
I first came across planner bands on Etsy and thought they would be easy to make!  I had seen the elastic these are typically made out of at my local craft store before, so I already had a simple lead.  I decided to give my DIY skills a try and my intuition was correct – planner bands are super easy to make!
I'm breaking these DIY planner band pen holders down step by step in today's tutorial to show you how you can make one too!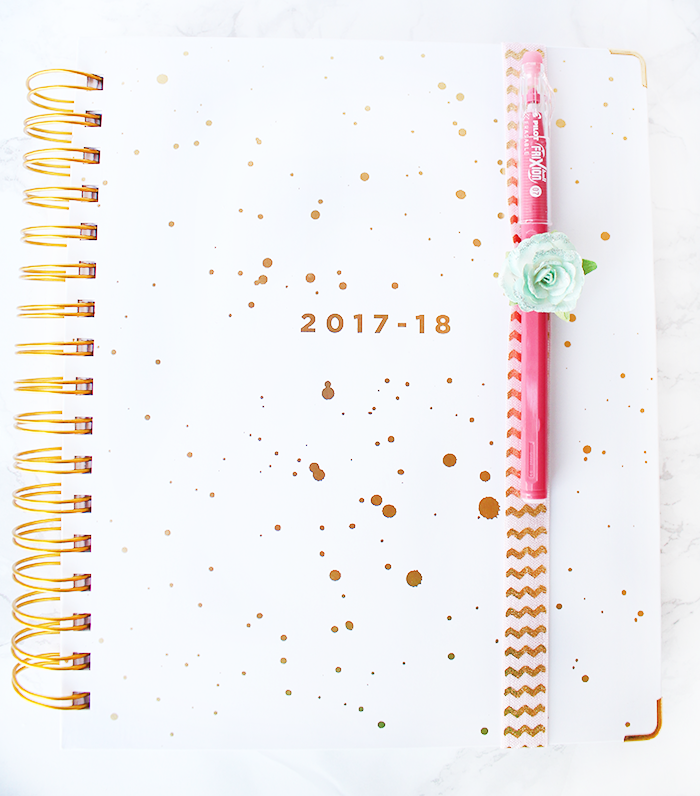 DIY PLANNER BAND PEN HOLDER
WHAT YOU NEED:
– Stretchy elastic trim (usually found near the craft ribbon spools – it's the same stuff those creaseless hair ties are made out of!)
– Decorative flower accessory (optional, but adds a cute touch)
– Hot glue gun
– Scissors
INSTRUCTIONS:
Step 1:  Measure the height of the planner you intend to use the planner band pen holder on.  Cut the elastic trim to be twice as long as the height of your planner.
Example: my planner is 9″ high, so I cut 18″ of elastic trim.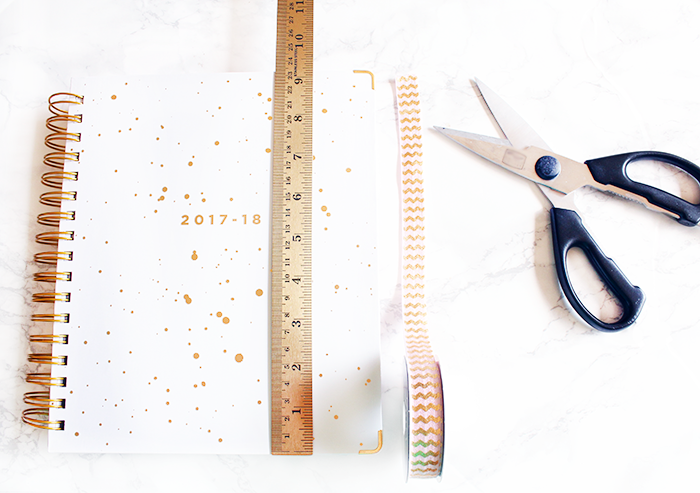 Step 2:  Using a hot glue gun, carefully glue the two ends of your elastic trim together.
Tip * I slightly overlapped the ends to make it extra secure.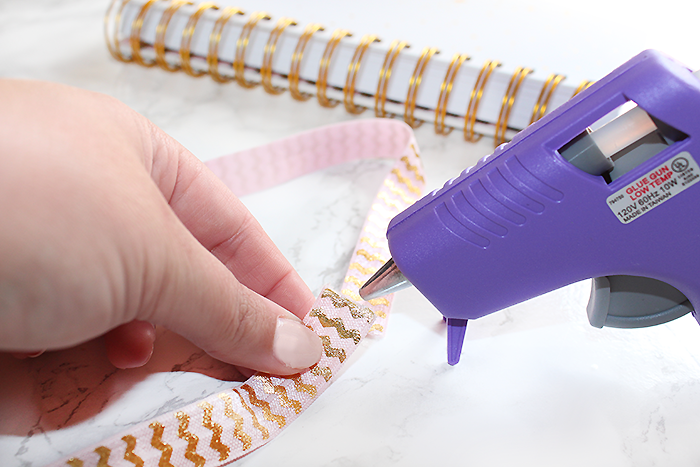 Step 3:  Cut another piece of elastic trim that is 1″ long.
This will serve as the loop for the pen holder.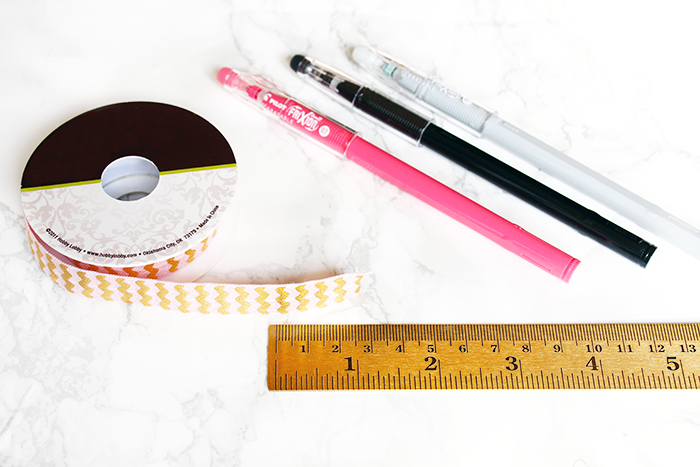 Step 4:  Wrap the 1″ loop around the planner band.
Using the hot glue gun, carefully glue the two ends of the loop to the back of the planner band.  Allow to dry before using.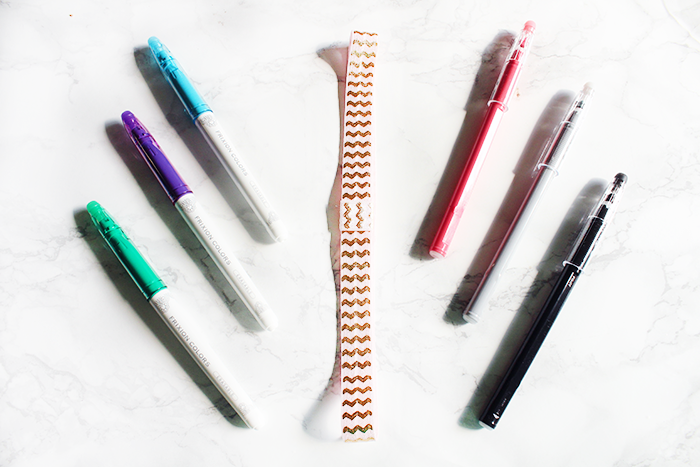 Optional*  To add a cute decorative touch, you can glue any type of flat back accessory on top of the pen loop.  Buttons, floral cabochons, and brooches are just a few ideas!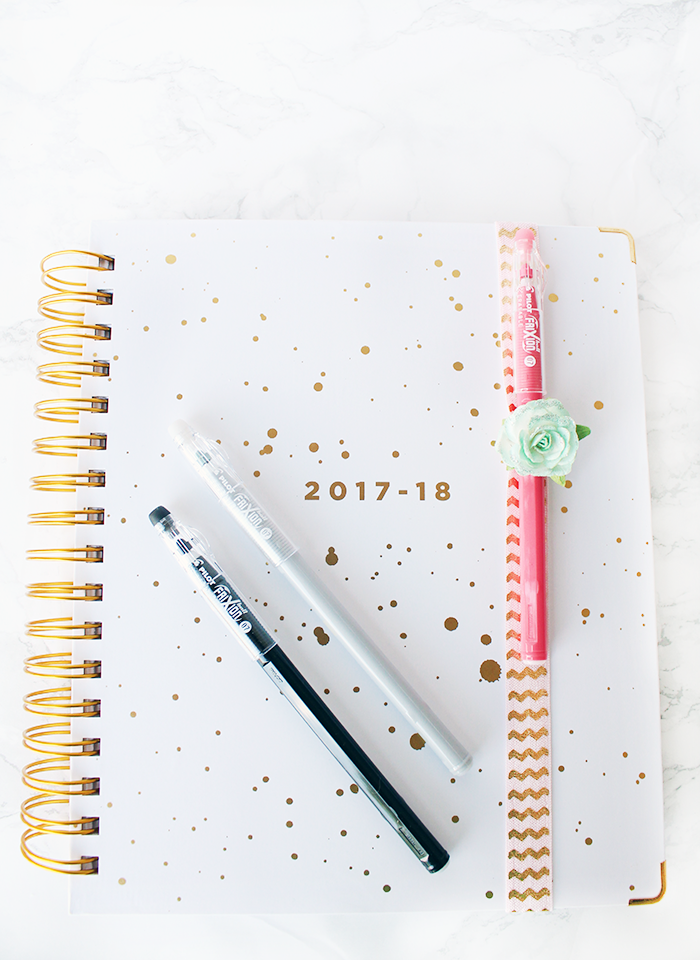 Now that you're all set with your planner band, it's time to start organizing that planner!
PLANNER ORGANIZATION TIPS
1. Use a Color Coordinating System
Coordinate your planner with different colors too easily skim your calendar and see what needs to be done.  If you're using your planner for work, school, and personal life, you can define a specific color to each for easy classification.
2. Use Erasable Pens
If I told you erasable gel pens exist, would you believe me!?  It's true and they're amazing!  With FriXion ColorSticks Gel Ink Pens you can fearlessly write in smooth, vibrant color.  These pens have a unique thermos-sensitive smooth writing gel ink formula that turns clear and disappears with erasing friction, which allows you to write, erase, and repeat without damaging paper.  I'm a messy writer and can't stand having to scratch out mistakes in my planner, so these pens are my favorite!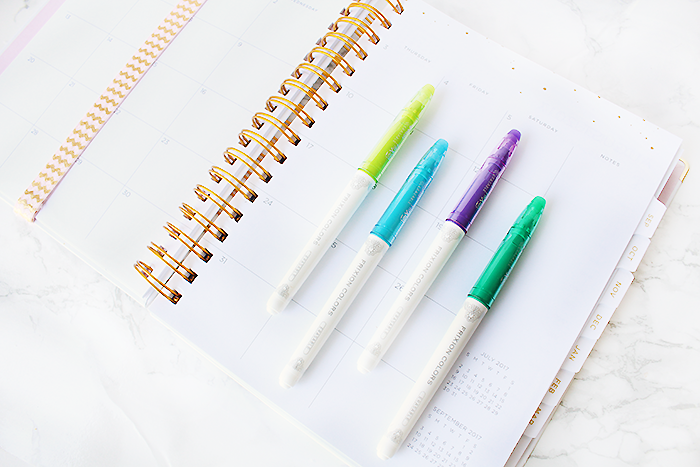 3. Highlight Your Goals
I'm personally a fan of writing out my goals each month to hold myself accountable. I recommend writing goals at the beginning of each month with a vibrant marker so they don't go unnoticed.  FriXion Colors Erasable Marker Pens are great for this, because like the gel pens I mentioned above, you can erase with these markers too!  Using something that is erasable will help keep your planner less cluttered by avoiding scratched out mistakes! These too allow you to write fearlessly!
4. Decorate with Dividers and Stickers
A visually appealing way to organize your planner is through the use of stickers and dividers.  Similar to color coding, this will help you break down your weekly tasks and help identify things a lot quicker!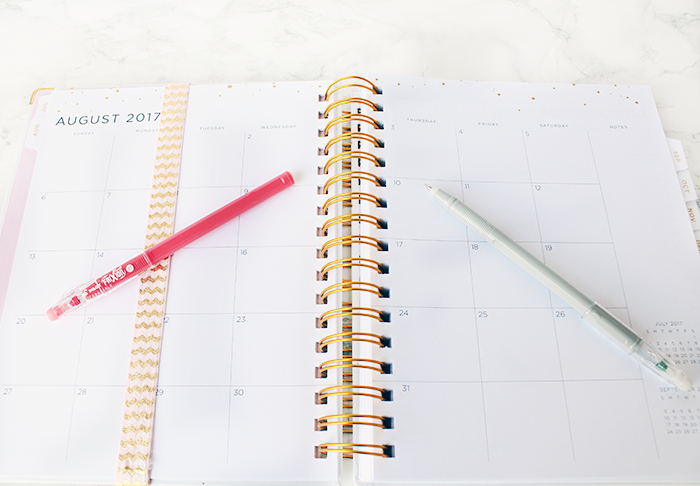 FriXion ColorSticks Erasable Gel Ink Pens come in both a 10 count and 5 pack of various colors and the FriXion Colors Erasable Marker Pens Packs come in both a 12 count and 6 pack of different colors!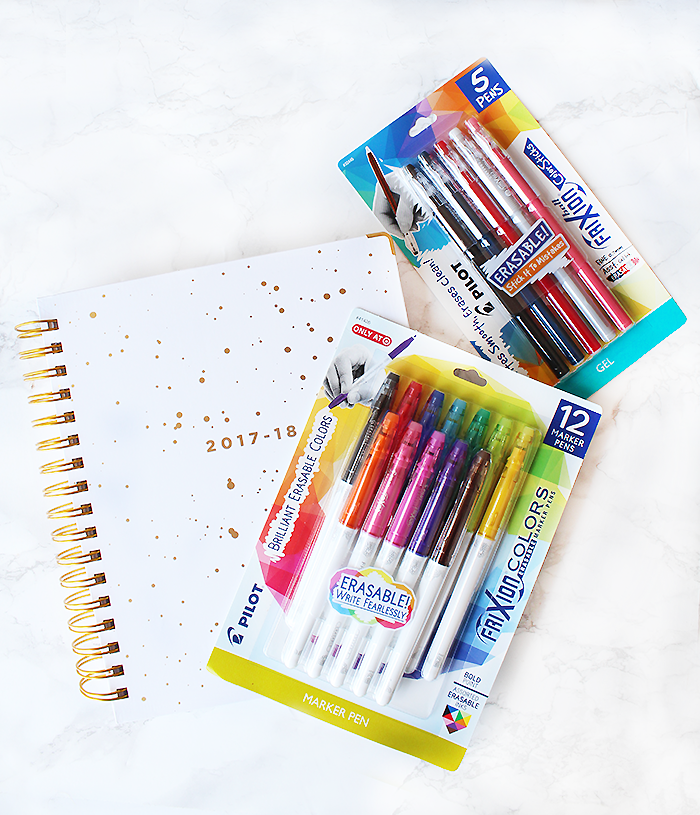 Want to give these a try? You can find them exclusively at your local Target in both the writing supply aisle and back to school section, or shop online by hovering and clicking through the photo above!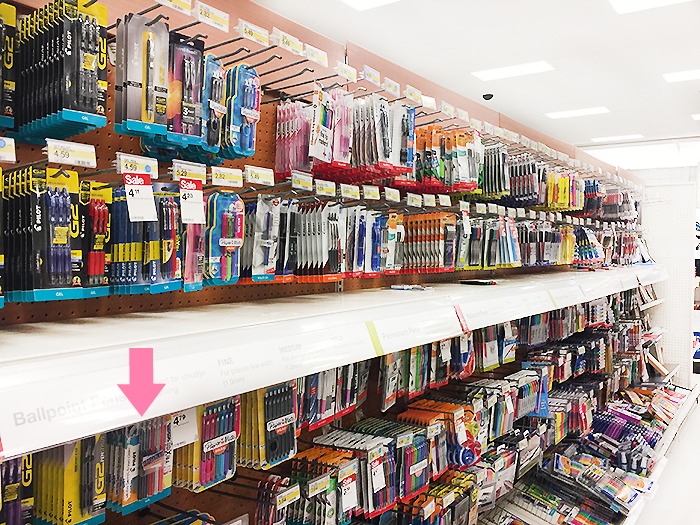 Do you enjoy using and organizing a planner?  Have you used a planner band pen holder before!?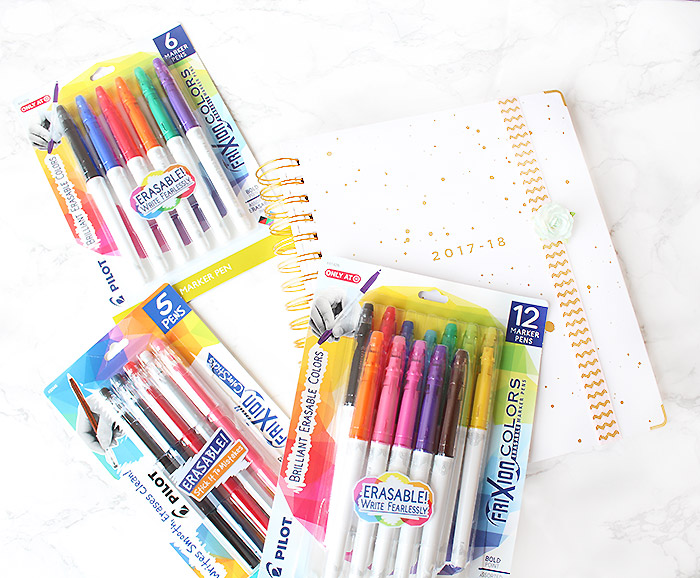 Pin this DIY Planner Band Pen Holder tutorial for later!
SaveSaveSaveSave
SaveSave
SaveSave
SaveSave
SaveSave
SaveSave
SaveSave
SaveSave
SaveSave
SaveSave
SaveSave
SaveSave