This post on ways to beat the afternoon slump is sponsored by ZonePerfect. All thoughts and opinions are my own.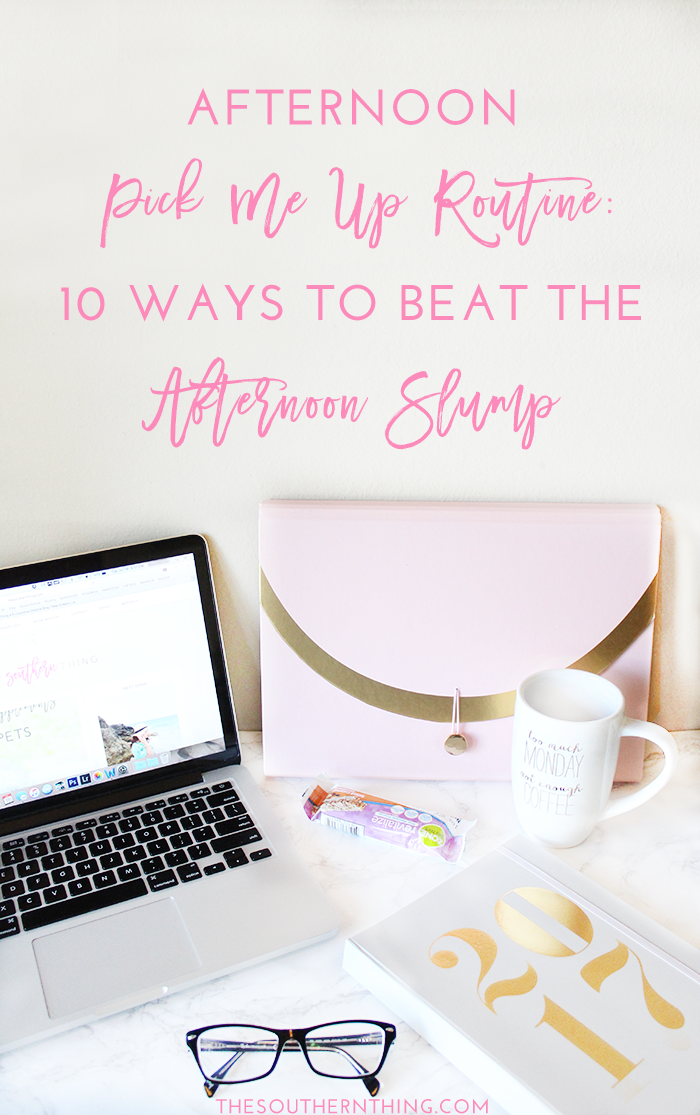 Whether we're sitting in an office or working from home, we've all been faced with the struggle of the afternoon slump.  When all you feel like doing is crawling in bed for a nap, but your to-do list or boss suggests otherwise, the struggle is real.
I'm my own boss and work from home, which means I'm faced with the temptation of my bed being just a short walk away.  Talk about a struggle!  Add in the fact that there's nobody here to tell me I can't go to bed, and it becomes even more tempting!  Being self employed requires lots of discipline, and this is a perfect example why.
Although I may have the luxury of working from home in yoga pants, taking a mid-day nap is never an option for me.  The same goes for any other full-time self employed business owner.  We must suck it up and carry on!
Luckily there are many ways to beat the afternoon slump, and I'm here to roundup some of the most realistic and proven methods for you!  The next time you feel like you're going to fall asleep at your desk, give this afternoon pick me up routine a try!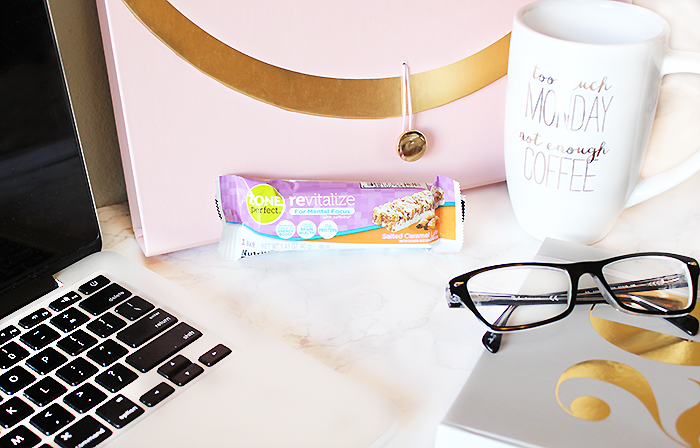 10 WAYS TO BEAT THE AFTERNOON SLUMP:
1.  GET A GOOD NIGHT'S SLEEP
One way to certainly beat the afternoon slump is the good ole tried and true method of getting enough sleep at night!  Studies show you should aim to get at least 8 hours of sleep for a good night's rest, but I like to think you know your body best, so do what works for you.  If you need 10 hours, who am I to judge!?
2.  DIFFUSE ESSENTIAL OILS
Aromatherapy has so many amazing benefits for your body, including the ability to perk you up and enhance your focus!  Every afternoon I diffuse a blend of citrus essential oils or refreshing peppermint and it always does the trick!  Sometimes when I'm feeling extra sluggish, I'll put a drop of peppermint oil on my temples and the back of my neck.  It's an instant refresher!
3.  STRETCH
Sometimes all you need is a good stretch to beat the afternoon slump!  A quick 5 minute yoga routine is not only relaxing, but revitalizing too!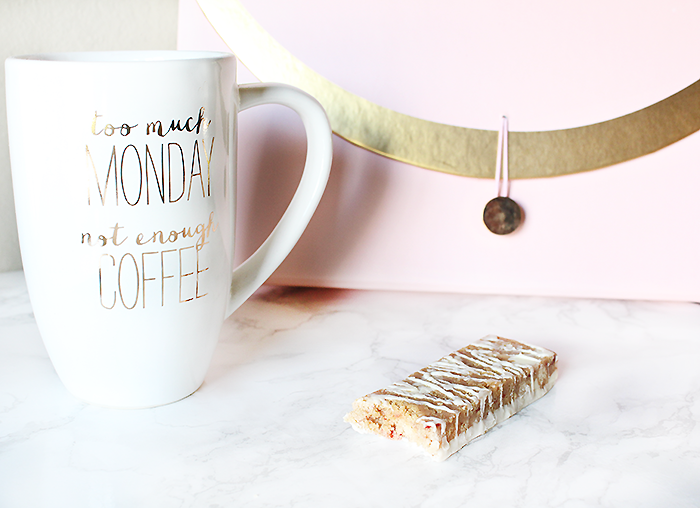 4.  EAT AN ENERGIZING SNACK
One thing's for sure – you can always count on caffeine to pick you up when you're feeling down!  The right snack can instantly perk you up.  My current go-tos are the new ZonePerfect® Revitalize Nutrition bars.
These bars contain a powerful mix of ingredients that provide you with the mental and physical boost your body needs to stay active and alert.  They're ideal for an early morning kick-start or mid-day boost!  You can find them on Amazon, or at your local CVS or Walgreens.  Want to give them a try? Grab this coupon here!
5.  GO FOR A WALK
Sometimes a change of scenery is all you need to beat the afternoon slump.  The next time you're feeling out of focus, try going on a quick walk outside.  Even if you feel like you're too busy for a break, this doesn't mean time has to be wasted.
You can always turn that walk into a productive walking meeting or conference call if need be, but I do think it's more beneficial to unplug for a few!
6.  CREATE AN AFTERNOON PLAYLIST
I find it helpful to have a specific afternoon playlist with pick-me-up music.  Create a few different playlists of your favorite songs, upbeat of course, to perk you up when you're feeling sleepy.  Maybe even throw in a mini dance party if you need to – who are we to judge!?
7.  CHANGE YOUR ROUTINE
Sometimes overcoming the afternoon slump can be as simple as making a small change.  In fact, your repetitive routine could be the culprit of your sleepiness!  Try changing your routine for a week and see if it helps you feel less tired.  It may work!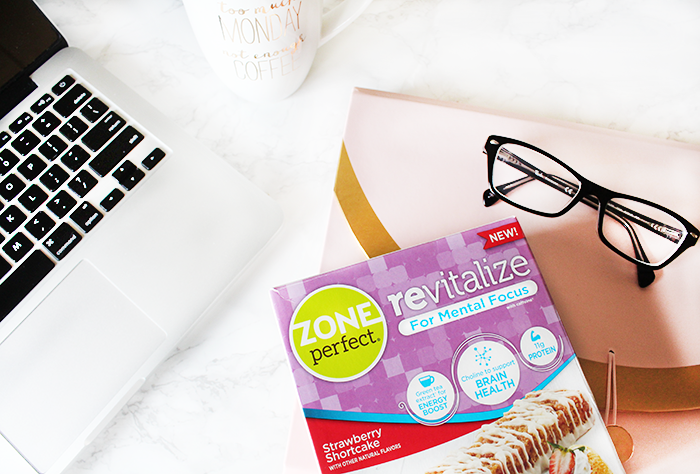 8.  GRAB THE CAFFEINE
Coffee usually does the trick, but there's only one problem – not everybody likes coffee! Luckily there are many other tasty ways to get a natural source of caffeine, and snacking is one of them!
ZonePerfect Revitalize Nutrition bars contain an energizing combination of green tea extract, which has caffeine levels equivalent to 1/2 cup of coffee!  These bars are also packed with choline, a micronutrient that supports brain health, 11 grams of protein to keep you full, plus antioxidants and vitamins C & E!  Talk about a powerhouse bar! Click here to save on ZonePerfect.
9.  STAY HYDRATED
With water, that is!  Dehydration can actually make you feel more tired, so it's important you drink enough water!
10.  SAVE IT FOR LATER
If you know you tend to get tired in the evenings, a great way to overcome that feeling is to save your favorite tasks for later.  You're more likely to stay focused when doing something you enjoy, so you might as well knock out the dreaded tasks first thing in the morning, otherwise it may only contribute to your lack of interest and focus!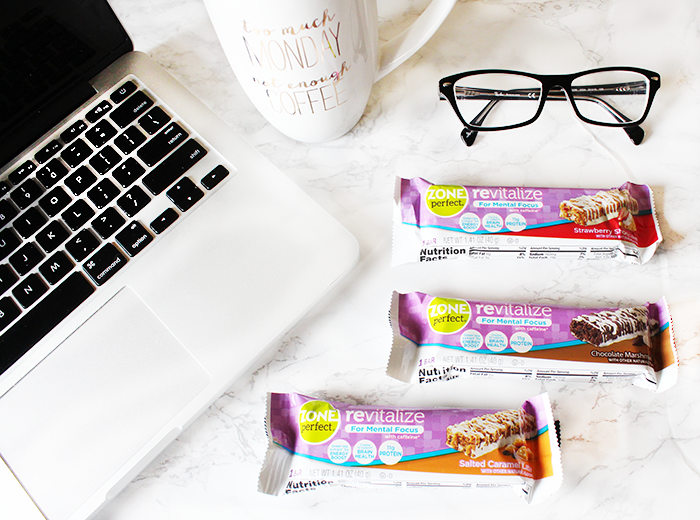 Are you feel the afternoon slump?  What are some ways you beat the afternoon slump?
SaveSave
SaveSave
SaveSave
SaveSave
SaveSave
SaveSave
SaveSave
SaveSave
SaveSave
SaveSave
SaveSave
SaveSave
SaveSave
SaveSave
SaveSave
SaveSave