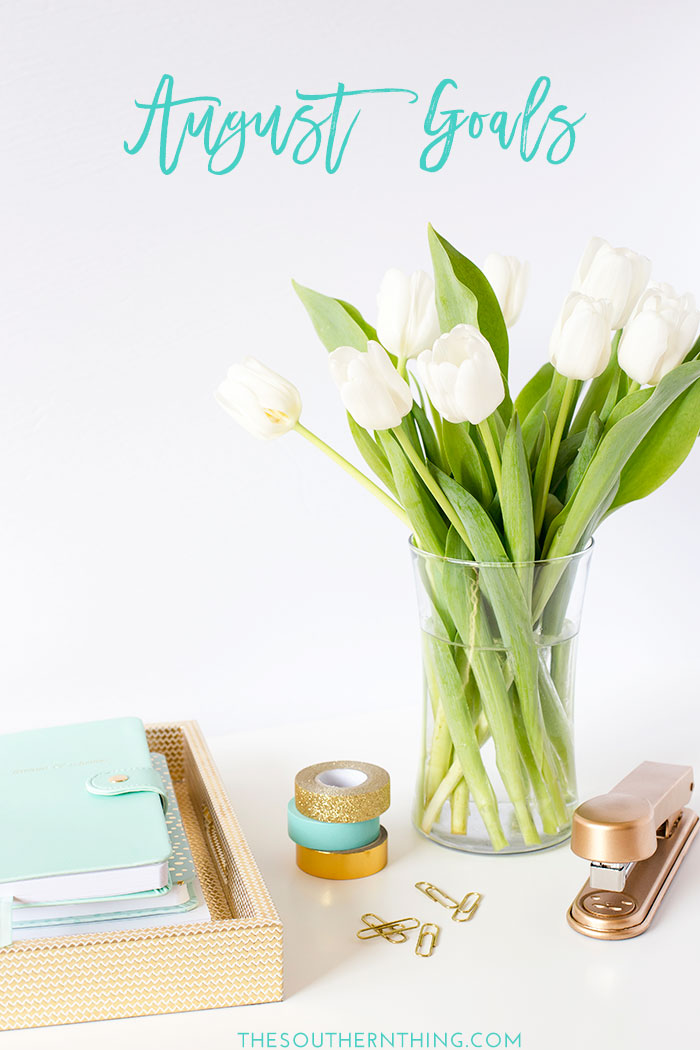 I'm having a hard time believing it's already August, but I'm okay with that because August means IT'S CLOSING MONTH!!  Well, hopefully!  Our scheduled closing date is August 31, so as long as the builders are still on schedule we should be good to go! Fingers crossed!!
This house building stuff has kept me busy and a bit stressed, so I can't wait for it to all be over and to finally get to relax in our own home!  I'm counting down the days!
August is also Chris's birthday month, and a big one at that! He'll be turning the big 3-0 which means it's time for me to step up my wifey duties and make it an epic one!

In other news, I do have a few other things I want to focus on this month.  Read below for my August goals!

AUGUST GOALS
Write a House Update
I've been majorly slacking here, but I do need to get at least one more out!  I love looking back at these types of posts, so I want to document as much of the process and house progress as I can.  In case you missed it, check out the house announcement and our first home: update #1!
Get Back Into a Routine Workout Schedule
I'm ashamed to admit how terrible I've been with this lately!  I'm struggling so hard to find the motivation to get into the gym that I had prior to our wedding.  For the first time ever, I loved working out!  Knowing I had a wedding dress to get into gave me the push I needed.  Now I don't know where that feeling went, but I want it back!
Plan Chris's Birthday
So far we're planning on going to the beach for a few days, then making a pit stop on the way back at one of the casinos to stay a night or two and hang by the pool for Chris's birthday.  His birthday happens to be the day of the total solar eclipse, which is a pretty cool way to start the first day of your 30s if you ask me! Speaking of birthdays… what in the world can I get this man!?  I want to give him something cool and special, but guys are so freaking hard to shop for.  I'm clueless, so feel free to throw some ideas my way please!  What did you give your man for his big birthday!?
Brainstorm Ideas for the New House
We're planning on replacing just about every piece of furniture we currently own, so the pressure is on to start brainstorming ideas for permanent pieces for the new house. I know it will take time to get the house fully furnished and decorated the way we want, and I certainly don't want to rush into it, but to at least have an idea would be nice.  My style varies.  I'm a mix between Z Gallerie and Pottery Barn, so I'm struggling with how to combine the two different styles.  Interior decorator I am not!
What are you focusing on this month?  Share your August goals in the comments! 
SaveSaveSaveSaveSaveSaveSaveSave
SaveSave