Keeping your dog safe in the summer is a sponsored post written by me on behalf of Adams™ Flea & Tick Collar for Dogs & Puppies.  All opinions are my own.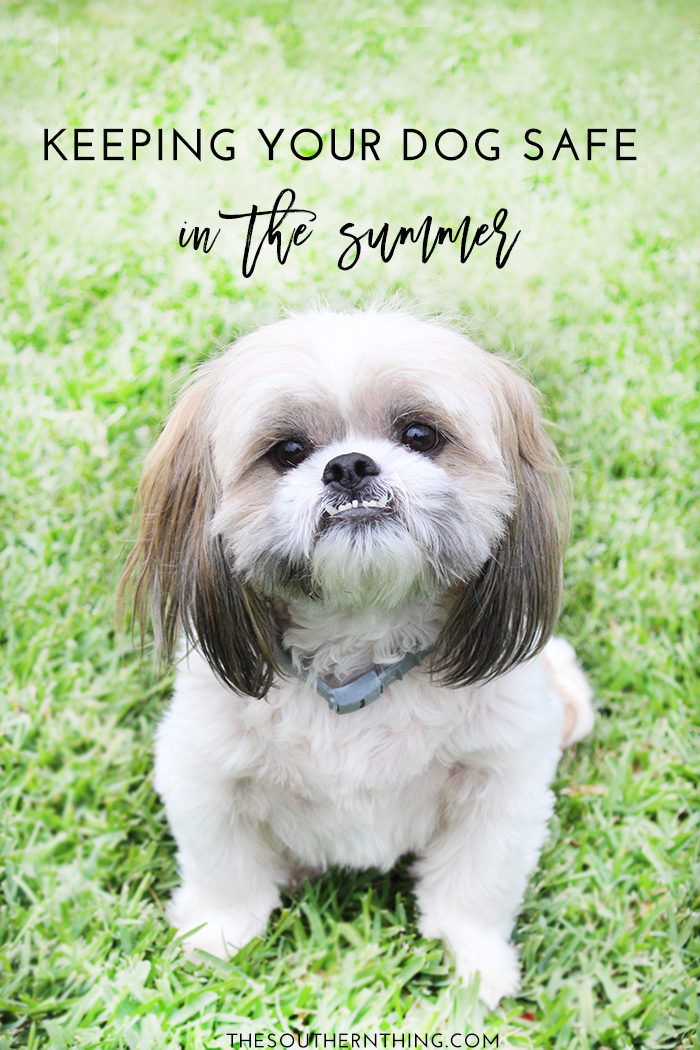 Summer time means more fun in the sun, but for your pets, that can mean serious risks involved.  If you're reading this, then chances are you're a dog owner, and a careful one at that!  We all love our fur babies like family and would never do anything to intentionally cause harm, but a reminder when it comes to safety never hurts.
I'm not an expert, but I can say I'm pretty much a pro at loving animals, so I'm sharing some tips on keeping your dog safe in the summer in hopes that this post can serve as a helpful reminder for all pet owners reading.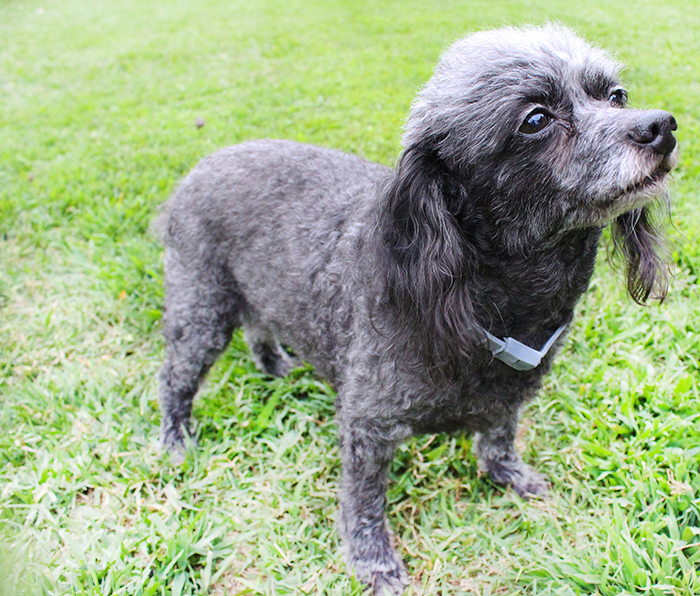 KEEPING YOUR DOG SAFE IN THE SUMMER:
1.  Don't Leave Your Dog in the Car
We've all heard this time and time again, but unfortunately people still do it, and even worse, sometimes it ends in tragedy.  Leaving your dog in the car for what you think will be a quick 2-minute errand can be deadly for your dog when it's hot out, even if the windows are cracked.  Temperatures on a hot summer day can rise to deadly levels for your pet in a matter of minutes.  You never know what can happen once you leave your car, and there's always a chance of an emergency, which may cause you to be away from your dog longer than expected.  It's not worth the chance!
2.  Be Proactive Against Parasites
When it comes to protecting your dog from fleas, ticks, and mosquitos, being proactive before there are outbreaks or issues is the best way to go.  Unwanted pests like fleas and ticks can be a year-round issue, but warmer weather triggers outbreaks, so now is the time to be proactive about flea and tick control.  One of the easiest ways to be proactive against pests is to use Adams™ Flea & Tick Collar for Dogs & Puppies.  The new Adams™ Flea & Tick Collar for Dogs & Puppies delivers pest treatment and prevention in one easy step, is easy to get as it's sold at Walmart, (click here for more details and a money-saving coupon), and will save you a trip and the cost of a vet visit. Two adjustable collars come in each package, which provides a full year of protection, making it a more convenient option than monthly topical treatments.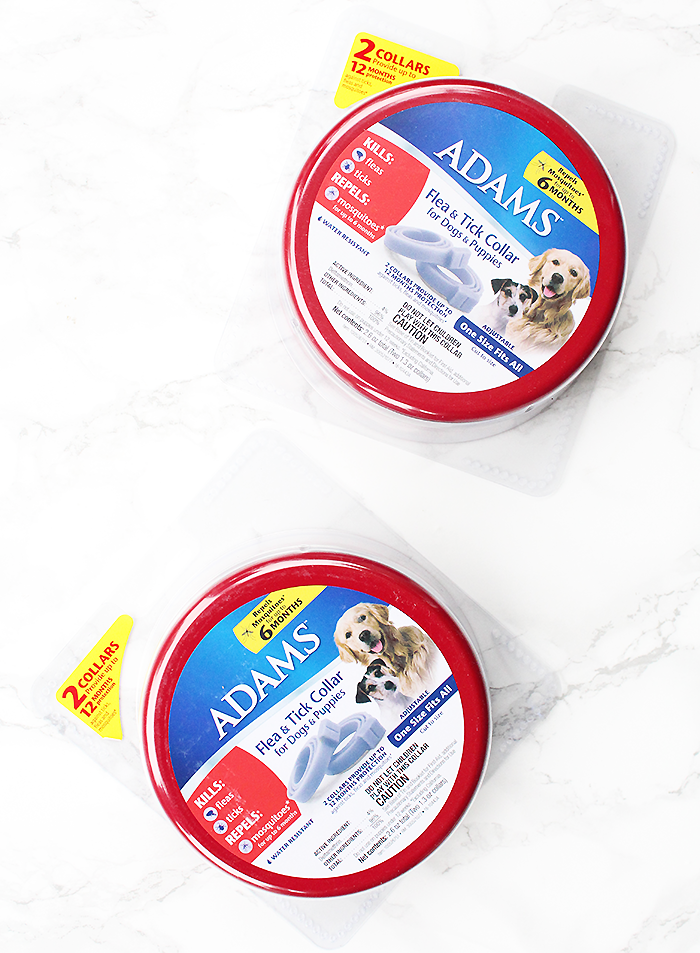 3.  Avoid Walks During the Hottest Part of the Day
Dogs seem tough considering they don't need to wear shoes like we do, but some dogs have more sensitive paws than others and sadly many dogs suffer from burned paws in the summer.  Asphalt gets really hot in direct sunlight, so if you're planning on walking your dog, avoid walking during the hottest parts of the day, which is usually from 1-4pm.
4.  Protect Skin from Sun
We're not the only ones who suffer from sun damage like skin cancer and burns- dogs can too.  Keep this in mind when your dog is going to be exposed to a lot of sunlight.  A lot of people shave their dogs to help keep them cool in the summer, but it's important to be careful when doing so!  Avoid shaving them down to the skin- it is recommended to keep a nice coating of fur to protect their sensitive skin from the sun.  Also make sure there's always access to shade!  Fun Fact: Did you know there is sunscreen made just for dogs!?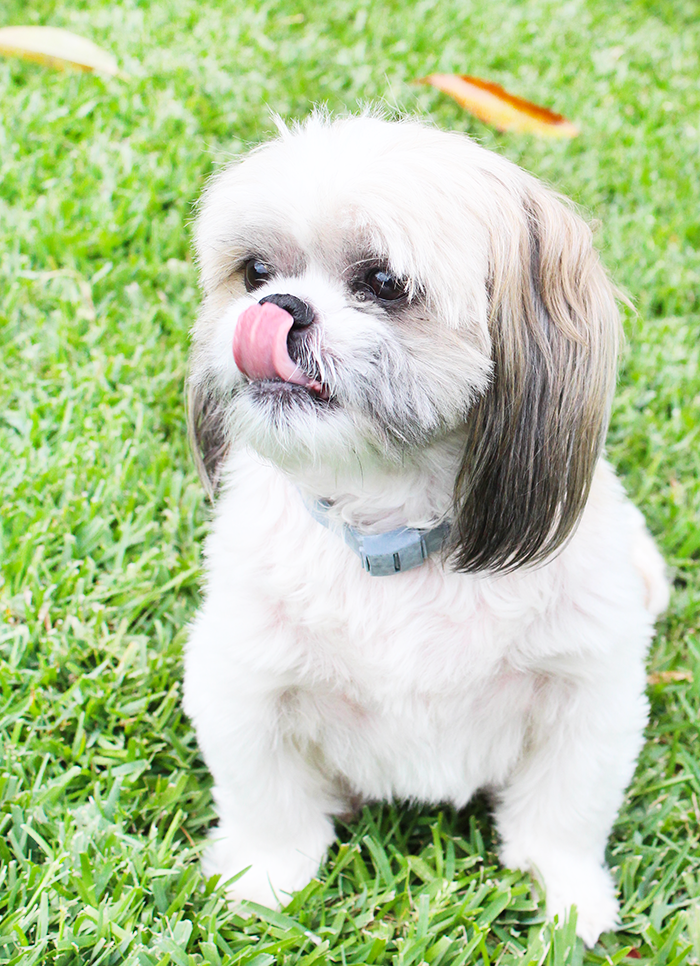 5.  Don't Forget Swim Safety
If your dog loves going in the water, make sure they do so carefully!  Keeping your dog safe in the summer while swimming is easy.  Monitor your city's water levels for harmful bacteria in lakes and rivers, which can be an ongoing issue in hot climates.  Avoid letting your dog swim in contaminated areas that can put them at risk of infection.  Sometimes this is very obvious.  If there's lots of green stuff in the water or it smells, it's a no go! Another thing to consider is your dog's ability to swim, so always put him or her in a life vest!  Most dogs can swim, but they may not have the endurance to do so for a long time in the event of an emergency, such as being ejected from a boat.
6.  Always Have Access to Fresh Water
If your dog is going to spend the day outdoors, make sure there is always access to fresh water to avoid dehydration.  This is easier to do when you're home and your dog is in the yard, but don't forget if you're planning on adventuring off with your pets. Be sure to bring a water bowl and fresh water with you while on the go!
**GIVEAWAY**  In celebration of the new collar, Adams PetCare is conducting a contest where pet owners can win $1,000 in prizes by submitting their dog's selfie. Top honors will go to entries that capture the pride a dog feels when pest-free. No purchase necessary. See website for details.
Are you a fellow dog owner that likes to enjoy the outdoors?  What are some of your tips for keeping your dog safe in the summer?  Share in the comments below!
This is a sponsored post written by me on behalf of Adams™ Flea & Tick Collar for Dogs & Puppies.  All opinions are my own.