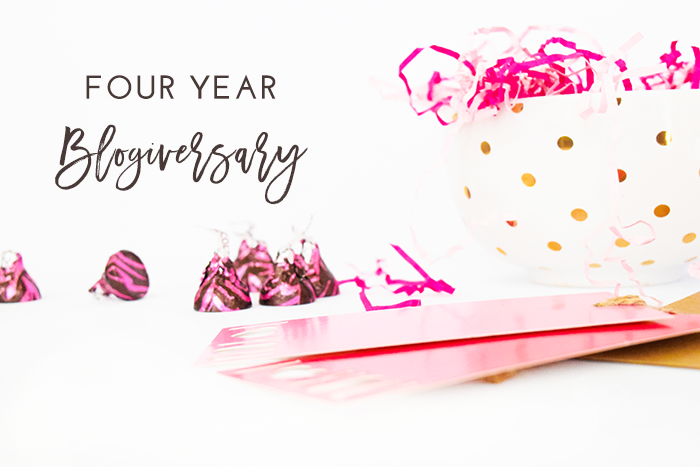 Wow- 4 years already!  I can't believe that 4 years ago yesterday, I started this blog!
If you would've told me 4 years ago that this blog would one day turn into my job, I'd laugh and say you're crazy!  Never in a million years did I think blogging would become such a huge part of my life. This online space of mine started as a side hobby filled with random ramblings, and it still is my hobby because I genuinely love blogging, but it's just crazy to think how far it has all come.  I've watched the industry change as a whole over the years and it's been such a fun and awesome experience I feel blessed to be a part of.
I've learned so much through blogging that I don't even know where to begin, but most importantly, I've learned a lot about my self.  It wasn't until I started this blog that I realized I have such a strong passion for writing, photography, design, networking, marketing, social media, SEO, and all the other fun technical stuff that comes along with the blogging territory.  There's so much that goes into what seems like a quick one and done post, and perhaps if I would've known what I was signing myself up for four years ago, this all would've scared me away, but it's been worth every moment.
This space of mine is like a big online diary of my entire life.  I've documented some of my most memorable moments here.  We've been through the biggest move of my life together, my journey through grad school, adventures living in New England, a move to Dallas, an engagement, wedding planning, a move back to Louisiana, and most recently, building my first home, as well as all of life's fine moments in between.  I've shared it all with you!
I've learned a lot, met some amazing people along the way, and I wouldn't trade it for the world.
To those of y'all that have been reading here since the very beginning, thank you for sticking around! Many of you are bloggers as well, and I can honestly say I've loved following along with your own personal journeys too.  Sometimes I feel I know y'all better than people in my own life.    Blogging is weird like that, but that's why I love it!  And to those of you that are new here, welcome!  I'm so glad to have you and hope to connect with you soon!  I love the friendships that have come from this community, so please don't be shy- come say hi!
Last but not least, this blogiversary wouldn't be possible without y'all.  You all inspire me to keep doing what I love and for that I will forever be thankful.