This country oven fried pork chops shop has been compensated by Collective Bias, Inc. and its advertiser. All opinions are mine alone. #AllNaturalPork #CollectiveBias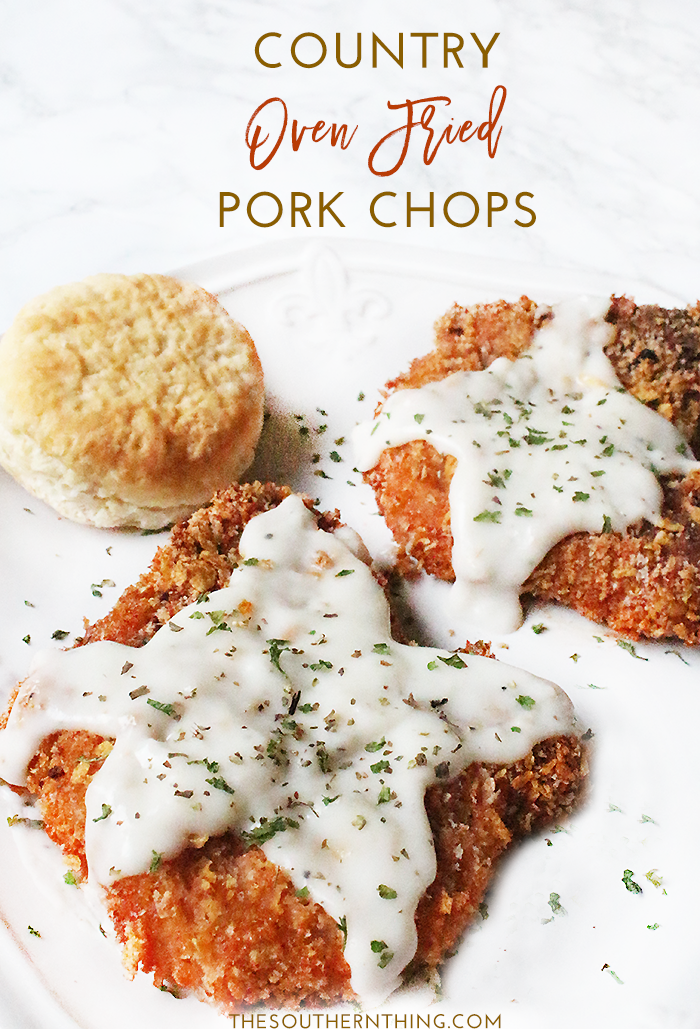 Growing up in the south, fried pork chops were often circulated on our dinner menu. It's a southern staple in all its glory, topped with white gravy a side of biscuits.
Sometimes food is comfort and I wouldn't have it any other way!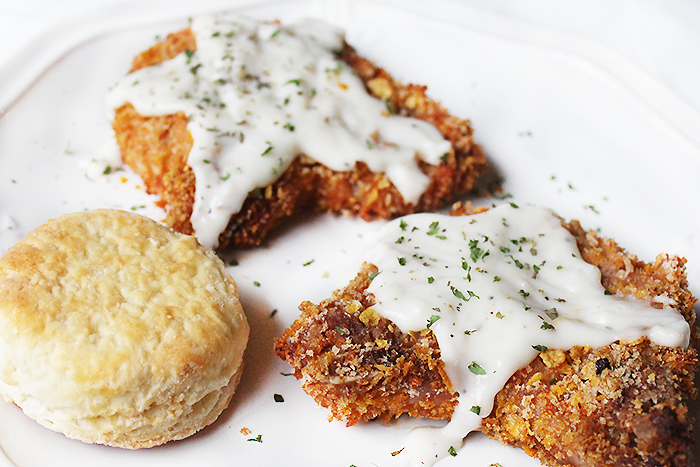 I've adapted my mom's fried pork chop recipe and made a skinnier, more guilt-free baked pork chops recipe of my own for those days when I need a taste of southern home cooking in under 30 minutes.
These country oven fried pork chops I'm about to share with y'all always hit the spot!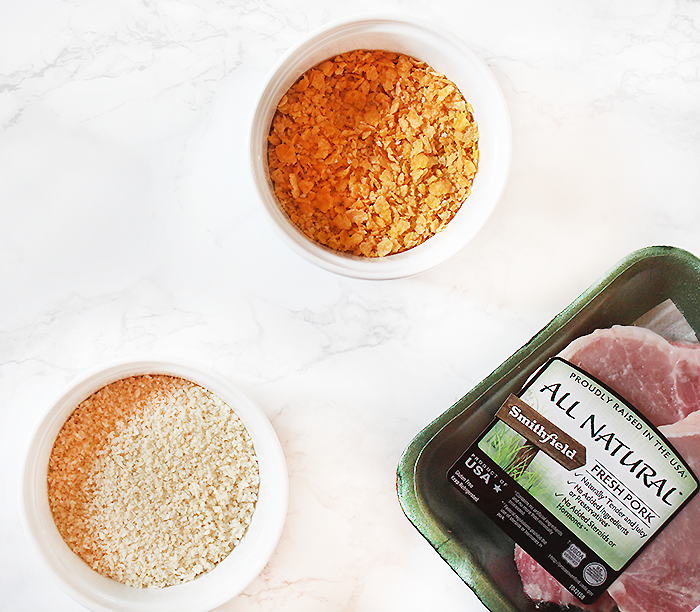 COUNTRY OVEN FRIED PORK CHOPS:
Ingredients: serves 4
– 4 Smithfield All Natural Fresh Pork Bone-In Pork Chops
– 1 egg
– 1/2 cup panko
– 1/2 cup crushed corn flakes
– 1/2 tsp onion powder
– 1/2 tsp garlic powder
– 1/2 tsp paprika
– Salt & pepper to taste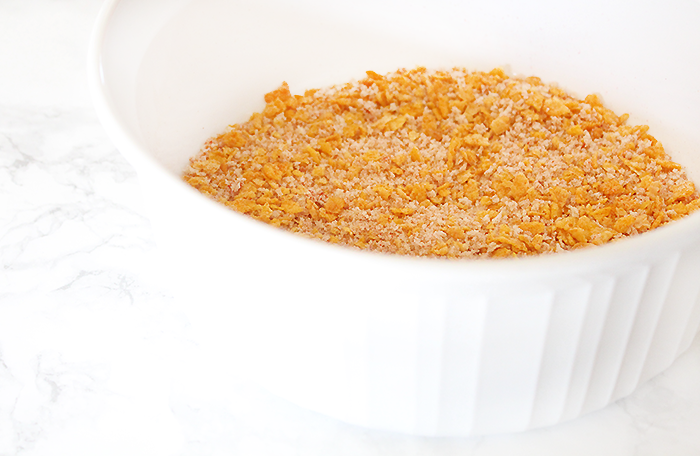 Instructions:
1.  Preheat oven to 425 degrees.
2.  In a bowl, combine panko, corn flakes, onion powder, garlic powder, paprika, then mix.
3.  Beat egg in a separate bowl.
4.  Lightly season both sides of the pork chops with salt and pepper.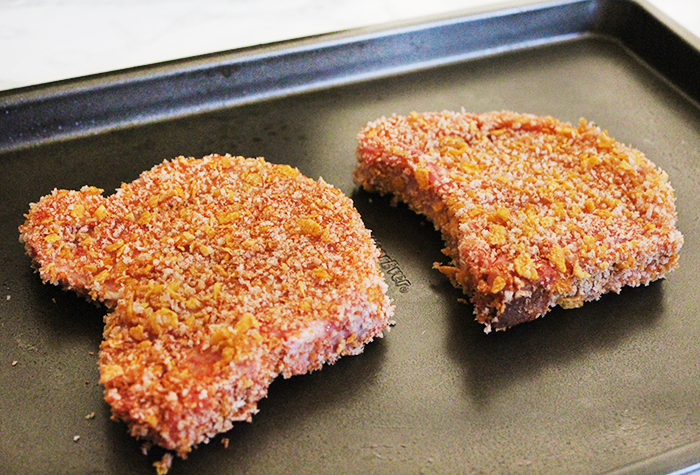 5.  Dip the pork chops into the egg mixture until coated, then transfer to panko mixture & coat.
6.  Place onto a non-stick baking sheet and bake at 425 degrees for 20-25 minutes or until done.
7.  Remove from oven and allow to cool.
8.  When ready to serve, top pork chops with white gravy and a biscuit for lagniappe!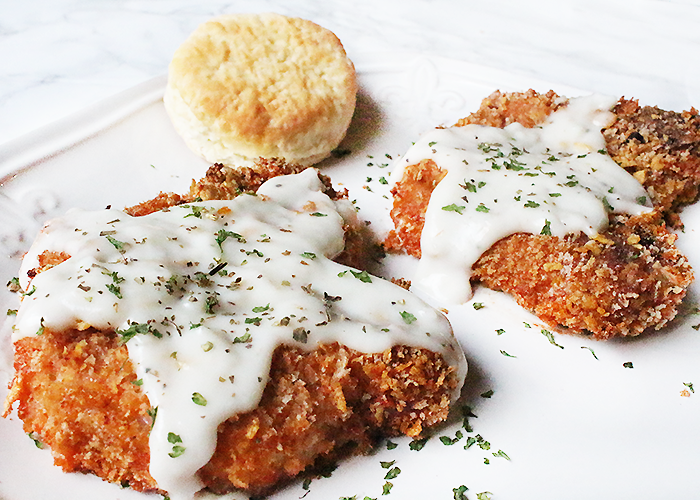 What I really like most about this oven baked pork chops recipe is the fried like texture without the guilt and the Smithfield All Natural Fresh Pork from Walmart (grab a rebate for it here).  It's naturally tender and juicy without added steroids, hormones or artificial ingredients.
These oven fried pork chops are high quality and easy to prepare, which is what I'm all about when it comes to cooking- quick and easy without sacrificing taste!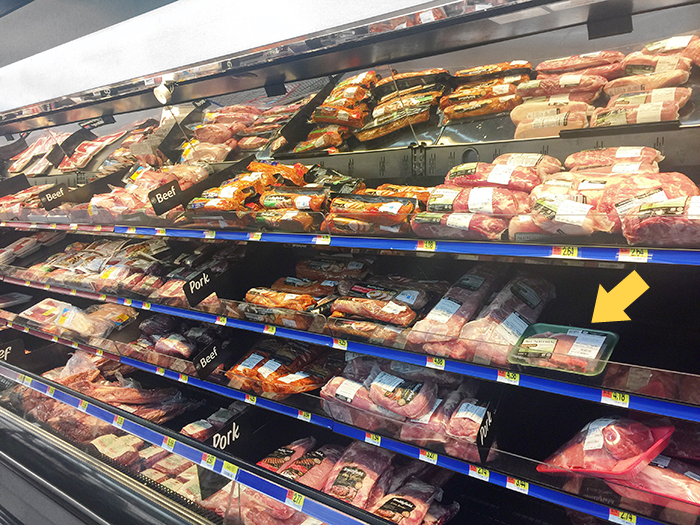 If you're craving some southern home cooking and you don't want to spend hours in the kitchen, these oven fried pork chops won't disappoint!
If you're looking for more pork chop recipes, check out the video below!
Do you have a favorite home cooked meal or guilt free version of a favorite recipe?  Share yours in the comments!
Want to add these country oven fried pork chops to your menu?  Pin this recipe for later!