This gift guide for the bride to be post is sponsored by Kohl's.  I received the included panties as compensation for this post.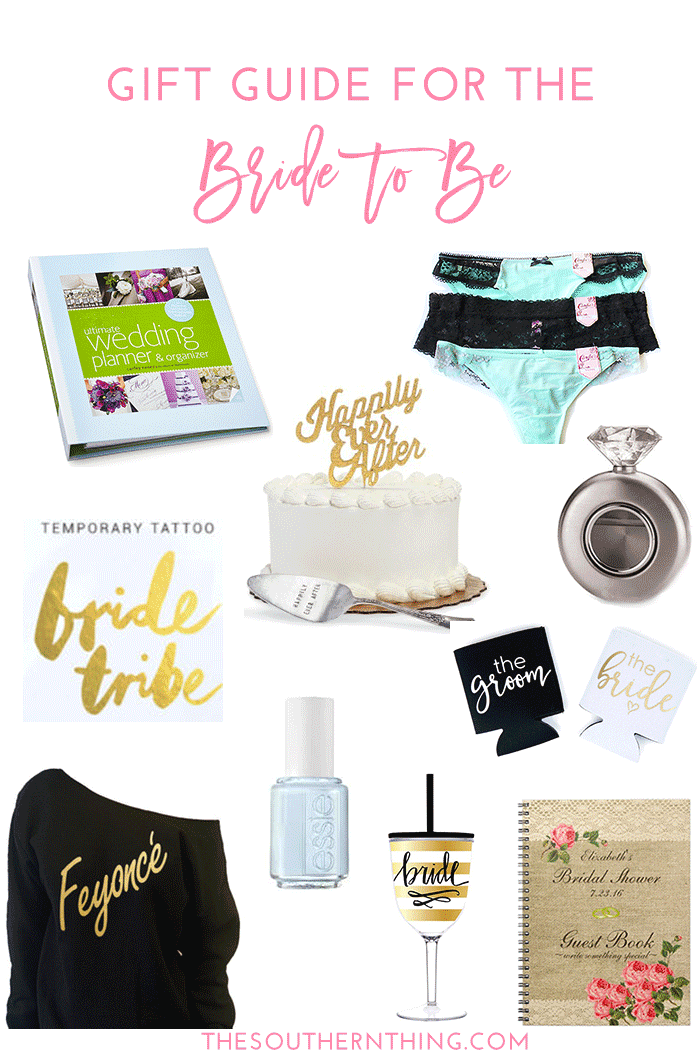 Being the bride is a special moment to never forget!  It seems like November was just yesterday when I was planning my own wedding and it's crazy to think how fast the time has passed!  The wedding planning process was overwhelming at times, but I kind of miss it!  Since I'm now married and no longer have an excuse to call myself a bride to be, nor do I have any girl friends currently engaged to help plan a wedding for, I figured I'd turn to y'all, my engaged readers and friends of brides, to share this gift guide for the bride to be! If you're in need of bridal shower gift ideas for the bride, I've got you covered! I've already shared a gifts for newlyweds guide, so today it's all about the bride herself! These are all fun gift ideas to give from one girlfriend to another!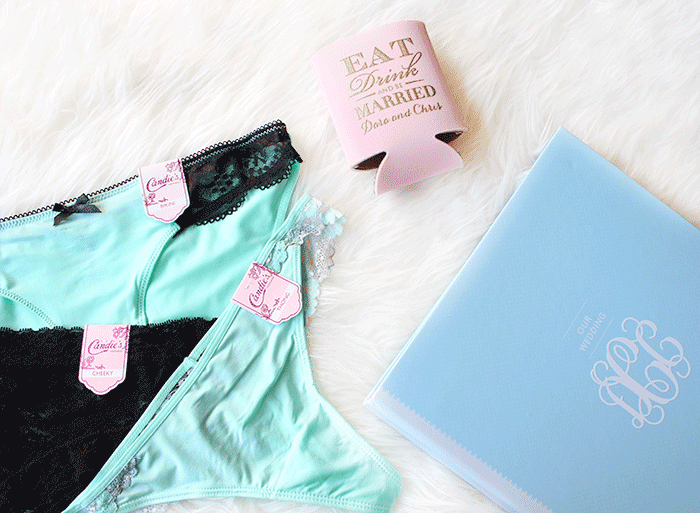 GIFT GUIDE FOR THE BRIDE TO BE:
1. Lingerie – Every bride to be deserves an update to her lingerie drawer! For my wedding, my bridesmaids did a lingerie exchange and I had to guess who each set was from. This can be such a fun gift exchange between girlfriends and bridesmaids!
Kohl's has a great selection of lingerie for bridal shower gifts, and offers a variety of different cuts for multiple solutions. My personal favorites for bridal gifts are lace bikinis, thongs, and cheekys.  Lace bikinis are great for full coverage while also adding a touch of sexy detailing with lace. Bikinis are a nice cut for wearing to sleep and loosely fitted clothing. Thongs are a great option for no-show of lines. This is especially helpful when it comes to wearing a lot of white for wedding events like bridal showers, rehearsal dinners, and the honeymoon where the bride will most likely be in a white dress. Cheekys are like the fun combo of both a bikini and thong.  For the bride that wants a little more coverage than a thong, this is the perfect solution! Cheekys give you that full coverage feel, but also helps eliminate lines so it's a win-win! There are great sales going on at Kohl's for lingerie from 3/3-3/26 so be on the lookout! Use INTIMATES10 for $10 off $40 from 3/3-3/16 and be sure to take advantage of Kohl's Bonus Buys now through 3/12.
2. Wedding planner & organizer binder – This is an absolute must for any bride to be planning a wedding.  Honestly, I would have been totally lost planning my wedding without it.  It has helpful timelines to follow, tips, and is the perfect way to stay organized and on top of everything. Take my word for it and don't let any bride plan a wedding without this!
3. Bride tribe tattoo – These temporary tattoos look so cute when everyone's on board with wearing them! Get one for the bride and each of the bridesmaids for an upcoming bachelorette trip and you've got yourself a bride tribe ready to take on the town!
4. Happily ever after cake topper – This is the perfect bride to be gift that can be used for an engagement party, bridal shower, couple's shower, bachelorette party, or even on the wedding day!
5. Diamond bling flask – Every bride to be needs a diamond bling flask to match that new bling of a ring!  This is a must have!
6. Feyoncé top – This is for your queen bee bride to be- that fab friend!
7. Bride and groom koozies – If you're looking for a fun couple's gift to give a bride to be, look no further. These matching bride and groom koozies will get put to good use for a beachy honeymoon.
8. Something blue polish – Something old, something new, something borrowed, something blue!  Finish off the 4 necessities on the list with this subtle something blue the bride can wear on her toes for her wedding day.
9. Bride wine glass – Because wine not!?
10. Bridal shower guest book – A bridal shower guest book is a must have!  This will come in handy for keeping a gift log from each guest, that way you know who came and who to send thank you notes to later!
Are you shopping for a bride to be? What are your favorite gifts to give!? Pin this gift guide for the bride to be so others can get wedding gifts ideas too!
In need of wedding gift ideas for both the bride and groom? Check out my recent gifts for newlyweds post!
This blog may contain links to other websites. Affiliate links in this post are not associated with Kohl's. I am not responsible for the privacy policies of those other websites. When you click on a link, your information may be collected by those websites so I encourage you to read their privacy policies.