This carry on travel essentials post is sponsored by Steripod.  All opinions are my own.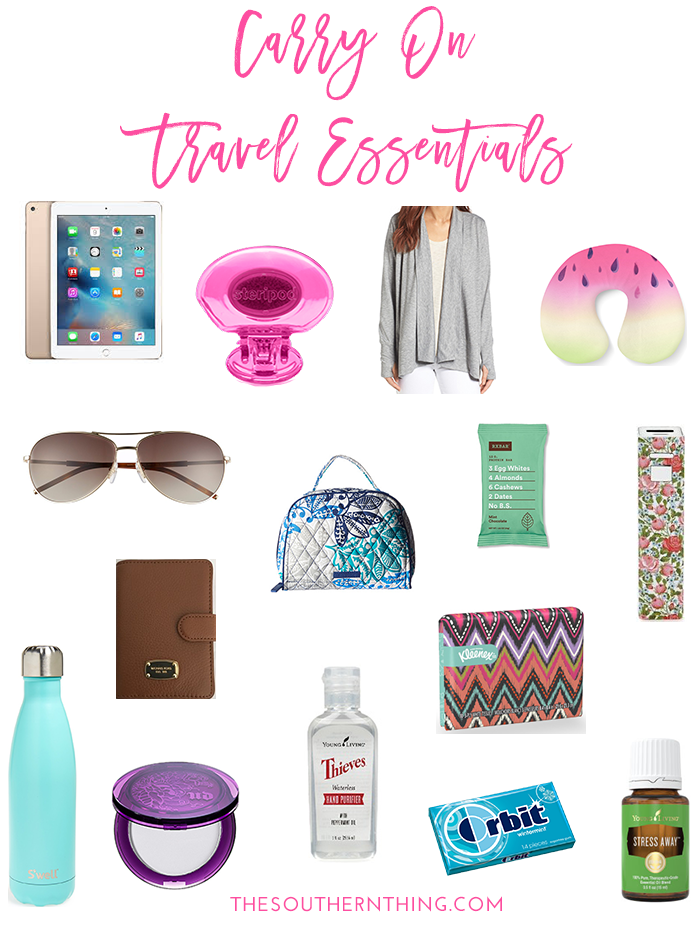 I'm no stranger when it comes to flying.  When you lived in Dallas but were planning a wedding in New Orleans and flights were only $40, you sucked it up and flew back and forth as often as needed!  That was my life a year ago.
Prior to that, I was always flying across the country to go home between breaks in grad school.  I'm not a huge fan of flying, so to say I spent more time in the air than I'd like would be an understatement. Flying is super convenient, but when you're the type of person like me who tends to pack their entire house in a suit case and carry on, it can get pretty old!
I'm probably the last person you want to look to for advice when it comes to packing lightly- I just don't think it's possible for me!  However, I am pretty good at packing smartly and being over prepared!  I pay close attention to what goes into my carry on bag and always plan for the worst!  My mantra is you can never be too prepared, so below I'm sharing some of my go-to carry on travel essentials that I think are must haves when flying.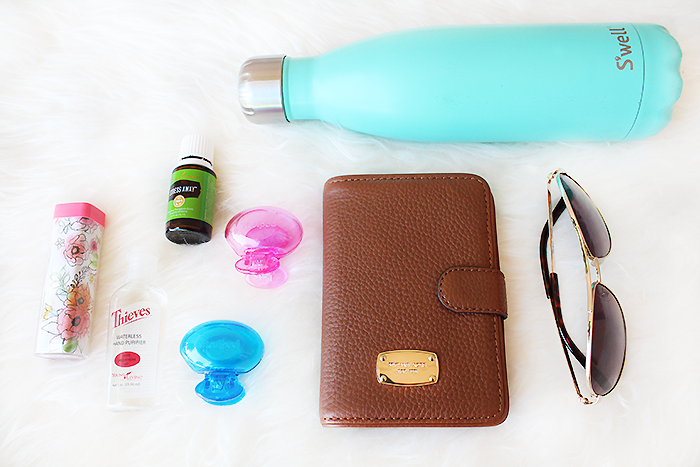 CARRY ON TRAVEL ESSENTIALS:
iPad – Free in-flight and layover entertainment?  Yes please!  I always make sure I pack an extra electronic for reading or movies, such as a tablet, that way I don't have to worry about running the battery down on my phone when I have a long day of traveling ahead.
Steripod – One of my biggest pet peeves when traveling is not feeling clean!  Sometimes you have to eat multiple meals in the airport in-between flights.  This has happened to me a bunch, but I learned my lesson the first time and now I always carry a tooth brush with me in my carry on bag!  Just being able to brush your teeth in between flights feels like a blessing!  I guess I should clarify by saying the only way I would carry my toothbrush in a bag is with a Steripod protector. Spoiler alert: there may be all kinds of nasty germs lurking in your toothbrush!  Steripod to the rescue!  Just clip on the protective pod to shield your brush from airborne and cross contamination.  Steripod releases active vapors found in many mouthwashes to create a safe environment to store your toothbrush between uses.  It's a convenient carry on travel essential!  I use these both while traveling and at home.  Want to try one yourself?  Use code T649773RJ750 for free shipping on all online orders of at least $9.99!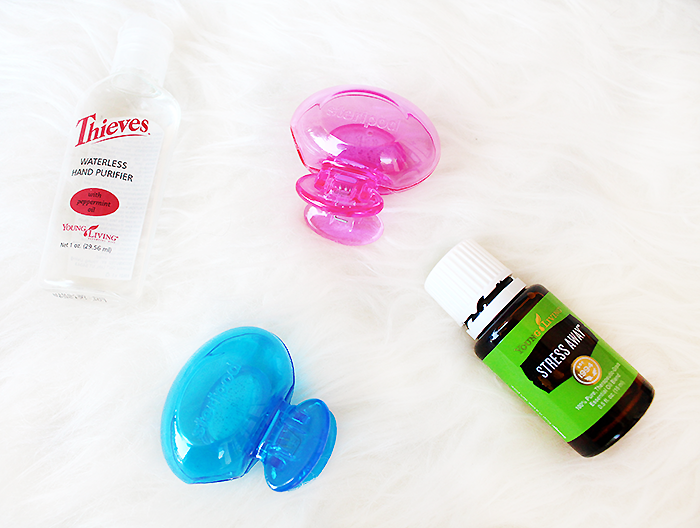 Light weight cardigan – You never know if you're going to be stuck on a cold plane or in a cold airport, so you're better safe than sorry by packing a lightweight cardigan just in case!  The more lightweight, the less room it will take up in your bag.  Keep that in mind!
Neck pillow – Depending on how much extra room I have in my bag and how long of a flight I'm going to be on, I'll usually pack a travel pillow in my carry on.  This especially comes in handy for  red eye flights!
Sunglasses – Sunglasses come in handy when you're in need of a nap and the plane is too bright, or if sun happens to be beaming in your eyes from the windows.
Jewelry organizer – When I travel, I never pack things into my checked bags that are valuable. Jewelry is one of them.  This jewelry organizer is compact, yet fits most of my expensive jewelry I wouldn't want to risk getting lost or stolen.  Highly recommend!
Snack bar – Rule #1, never fly without an emergency snack on hand!  I live by this rule!  I try to pack a snack that has nutrients to hold me over, and I particularly have been digging these RXBARs lately.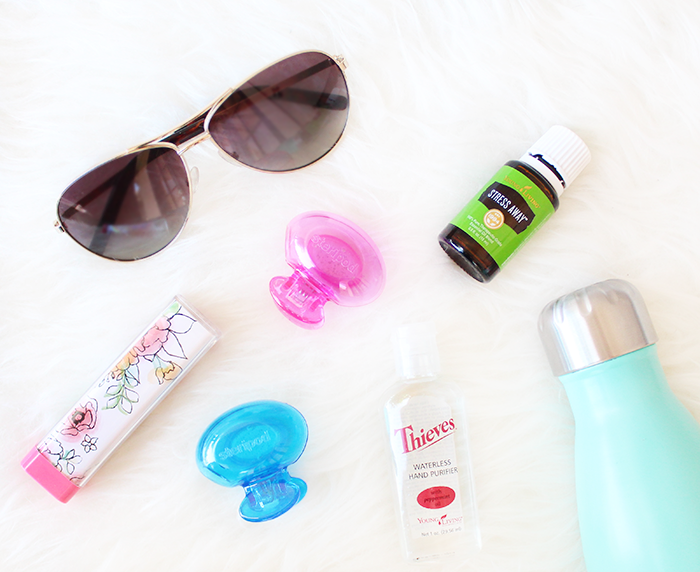 Portable phone charger – If you're like me and wouldn't know what to do without a working phone, this charger is for you!  It lets you charge without needing an outlet.  Total life saver, err phone saver I should say!
Passport holder – When traveling internationally, a passport holder comes in handy for keeping all your IDs in one place.  I prefer passport holders with card slots too, that way you can eliminate the need for a wallet and save space in your carry on bag!
Insulated bottle – Since you can't go through security with a water bottle, I've gotten into the habit of carrying an empty insulated bottle in my carry on and immediately filling it up with cold bottled water once I get to my terminal.  With the right insulated bottle, you can have cold water all day long!
Mattifying powder – If you've been blessed with combination oily skin like I have, mattifying powder will be your BFF.  This glides right over your foundation and eliminates shine without smearing your makeup, so it's basically a miracle powder!
Thieves waterless hand purifier – Planes are full of germs, as well as many other things you encounter in the airport.  You may not have easy access for washing your hands while mid-flight, so I always carry a Thieves waterless hand purifier, which is made with some of my favorite essential oils.
Gum – I'd seriously go nuts without gum on a flight!  My ears pop like crazy and chewing gum really helps with that!  I've also found that chewing gum during a long day of traveling helps prevent my mouth from feeling dry.  I tend to not drink enough water when traveling.
Stress Away – I couldn't forget one of my favorite essential oils!  This baby does exactly what the bottle says, which is totally necessary for my nerves while trapped on a turbulent flight!
So there you have it- my top carry on travel essentials!  What are your must have carry on travel essentials?  Anything you can't step onto a plane without!? 
SHOP THIS POST