This girl's guide to car buying post was made possible by iConnect and Autotrader.  I was provided compensation to facilitate this post, but all opinions stated are 100% mine.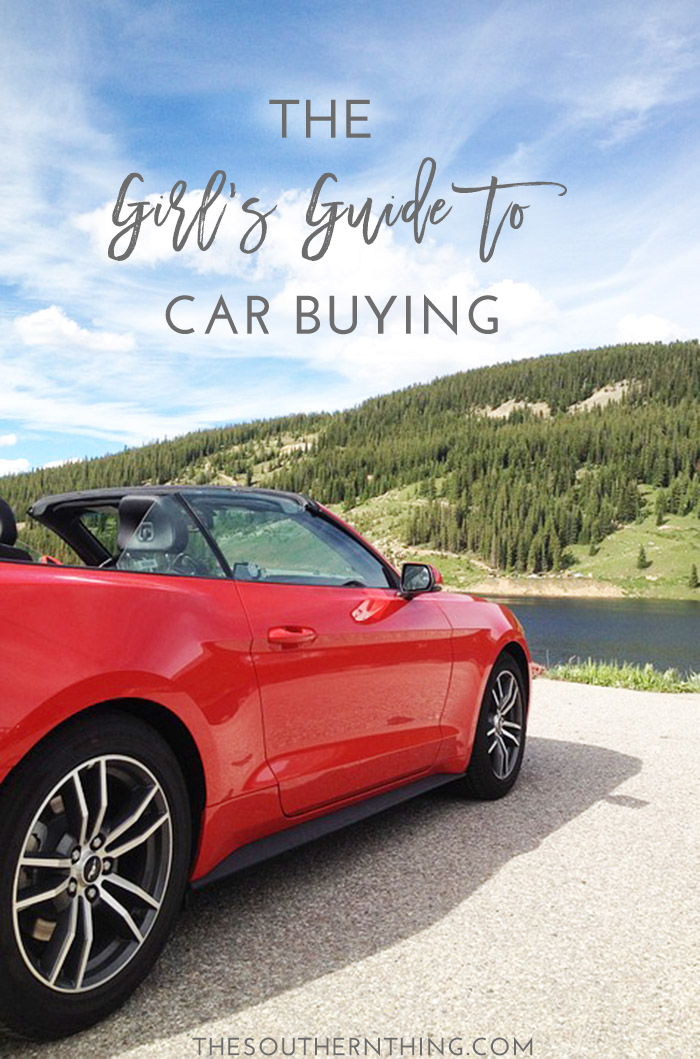 For as long as I can remember, I've always been into cars.  In high school, I had this weird obsession of researching the specs and horsepower of just about every car I'd see on the road.   Sport cars, in particular, were always my thing.  My very first car in high school was a Mustang and my current car is an Infiniti, which gives my horsepower happy heart all the feels.
I'll never forget the day I bought my Infiniti.  I knew exactly what I wanted and I wasn't going to stop looking until I found it, even if it meant driving 12 hours roundtrip to a different state to test drive one and leave the same day empty handed.  For the record, I'm ashamed to admit that really did happen!
Several negotiations at different dealerships took place before I finally closed the deal on my current car, and it was definitely a learning process to say the least. I did all of the negotiations on my own and that makes me proud!  I researched a lot beforehand, but I also learned a lot from the experience.  I figured I'd put my experience to use and share this girl's guide to car buying with y'all since there are so many key pieces that go into buying a car.  These are a few things you should always keep in mind:
Set a budget and stick to it:
I'm sure you all know the importance of having a budget set when purchasing anything, but I can't stress enough about how important this is!  Once you have a budget set, I recommend you begin researching the car(s) you are interested in to make sure they are realistically within your budget. Sites like Autotrader come in handy for this.  Also keep in mind expenses that go past the price of the car.  If your budget is $30,000 and you purchase your car for $30,000, you've actually exceeded your budget once you add tax, title, license, additional insurance, and maintenance plans, so keep that in mind!
Always negotiate:
Whatever you do, do not over-pay by offering the sticker price for a vehicle!  Do your research to find the true market value, Blue Book value, and trade in value of the car you're trying to purchase. Knowing what people in the area are paying will help you decide if you're getting a good deal or not. Most dealerships have markups with wiggle room to allow on average 15-20% off the sticker price of a car, so don't be afraid to ask, and then ask again.
Don't be the first to speak:
When negotiating, don't be the first one to say a number and don't let your budget be known upfront. Doing this could potentially cost you more if they know how much you're willing to spend!  Instead, ask a dealer what their best offer is first, then go from there.  This girl's guide to car buying offers great advice.
Don't be afraid to walk away:
If you've gone on rounds negotiating and still can't come to an acceptable deal, kindly leave (even if it means you just drove six hours to get there!!).  Don't feel like you owe anything to the salesperson, no matter how long you spent with them or how kind they were to you.  At the end of the day, this is a business deal and it needs to be fair for all parties involved.  If it's not, there are plenty of others out there!
Check vehicle history before purchasing:
If you're shopping for a used car, be sure to check the CarFax history before committing to a purchase. This will give you details of the owner history and if the car has ever been flooded or wrecked. I would not recommend relying on a salesperson's answer in regards to this.  You could potentially receive misinformation, even if it was an honest mistake!
Now that we've got the car buying part out of the way, let's talk about the fun part: choosing a car! Continue reading →