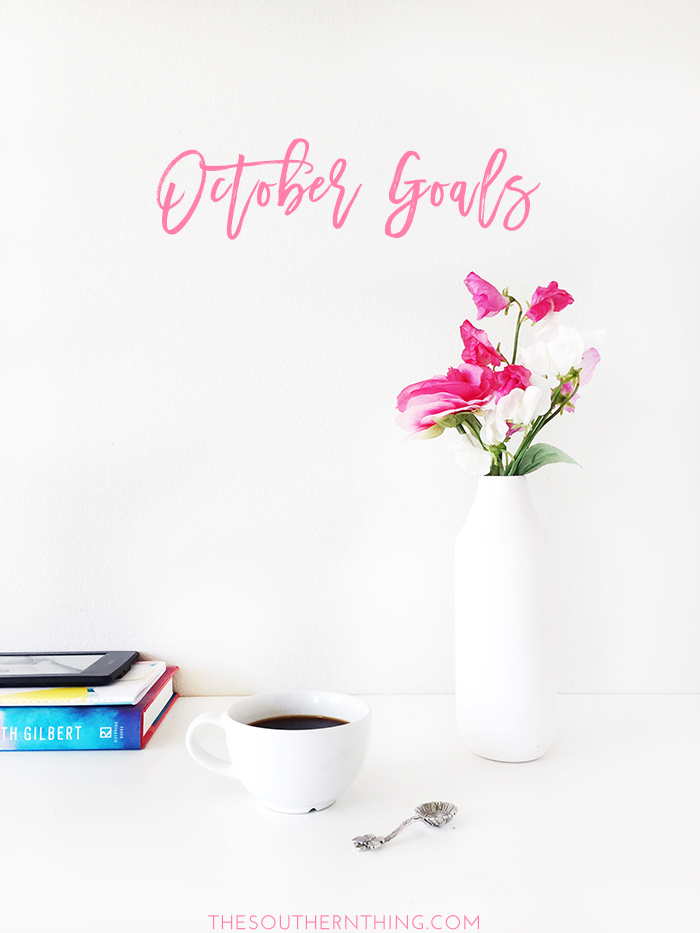 WHO writes their October goals 20 days into the month of October?  This girl right here and I don't know if I should be ashamed or what!  These past few weeks have been crazy and the timing of this post proves it.  Time has literally gone by in the blink of an eye for me.  I thought by now things would chill down, but boy was I wrong!  At this point I just need my honeymoon to get here already because this wedding planning stuff has my head spinning!
We're a little over 3 weeks out from the wedding and yet I somehow feel like I still have a million things to do.  I really don't think I'll settle down until we get to the venue, everything's set up, we say our vows, and the second line parade begins.  That's definitely not how I imagined my last month of being engaged going, but it's my fault for thinking the last few weeks before a wedding would be smooth sailing!  Big LOL at that one right there!
Anyway, back to October goals.  We still have some time left in October, so why the hell not share them, right!?  I know some of y'all have been following along with all of my wedding planning and were interested in hearing about the weight loss program I started 7 weeks ago, so the least I could do is give y'all the scoop on the progress on that and what I hope to accomplish as time goes on.  So here we go, October goals y'all!
1. Finish wedding planning
First things first is finish everything for the wedding, because this is kind of important and I really don't have an option!  I think all that's left is to finish finalizing our reception decor, make the cake pulls, and choose music.  That last part is slightly embarrassing, but it's true.  As of right now, we are not 100% decided on what music everyone, including myself, will be walking down the aisle to, nor have we chosen a first dance and father daughter dance song yet.  So with that being said, PLEASE send me your suggestions!! I really can't decide and would love some new ideas!
2.  Continue working out at least 6 days a week
My 8 week workout/weight loss competition ends next week and it's making me a little nervous!  For the past 7 weeks, I have been to the gym and worked out at least 6 days a week.  That may not be a huge deal for some people, but for me it is!  Having my trainer, team, and set schedule has really helped hold me accountable and made working out enjoyable for me.  I fear that as soon as I'm back on my own, I may start slacking and that's not cool!  So far I'm very pleased with my weight loss results and I want to keep it up. I know it will take a bit of adjusting at first.
3.  Choose honeymoon excursions
I get so lost and stressed with wedding planning at times that I forget we have an amazing honeymoon to look forward to!  Chris and I started looking at excursions and there are so many awesome ones we'd like to do, so now it's just a matter of deciding.  I'm so torn between wanting to do a lot of excursions but not wanting to miss out on our time at the resort since some of these excursions are all day events.  We really need to think this one through!
4.  Schedule posts for my wedding and honeymoon week
I'm going to be real honest on this one.  As of right now, I can't make any promises!  It is my plan to have some posts scheduled to go live while I'm gone, but it really depends on my schedule these next few weeks and right now, there's a lot going on!  As much as I hate the though of leaving this space quiet for that long, I may have to just accept the fact that it's going to happen.  If that's the case, I want y'all to know I didn't just up and quit blogging!  I'll be back- and married, and hopefully tan, and a little less busy by then!
5.  Prep for holiday season sales
Part of the reason this time of the year is so busy for me is because we're getting into holiday season and Bijoux Avenue keeps me pretty busy as a one woman show!  This year will be much harder since our wedding and honeymoon week fall right at the start of the Christmas shopping craze around Thanksgiving so that means I need to have everything ready like yesterday!
Are you working towards any goals this month?  Share yours below!