This festival must haves post has been sponsored by Coleman.  All thoughts and opinions are my own.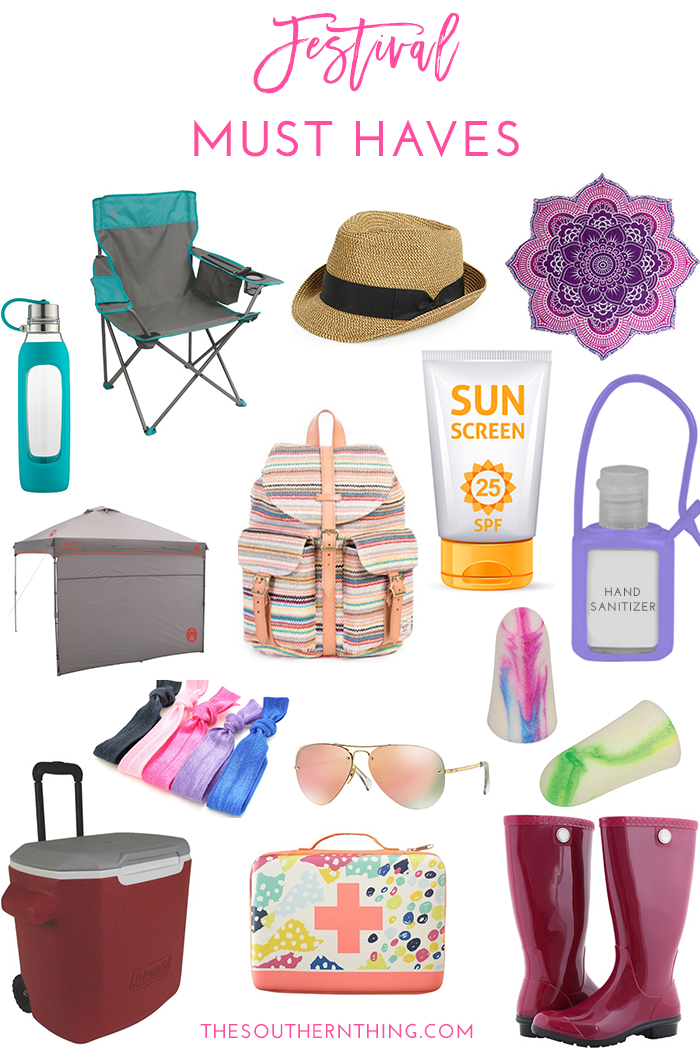 One of the things I love about living near New Orleans is the fact that there is always something to do. Festival season is a season of its own down here, and for good reason.  There's literally an event going on every weekend in south Louisiana (check out the 2017 New Orleans festival schedule), and in the spring and summer months, there's never a dull moment.  There's a festival for everything, from music to food and everything in between, and if you've ever had a taste of Louisiana cuisine, you know it's a real treat!
I never pass up the opportunity to go to a festival.  It's one of my favorite things to do, even if it means attending a fest during a tropical storm (yep, that happened!)  Music, good food, and friends?!  Well, yes please!
All you really need for a good time is you and your crew.  I'm sure most of you have been to a fest, so there's no need to state the obvious, but if you want to show up extra prepared, this roundup of festival must haves may come in handy. Use this as a reminder checklist before you head off to your next spring or summer fest this year!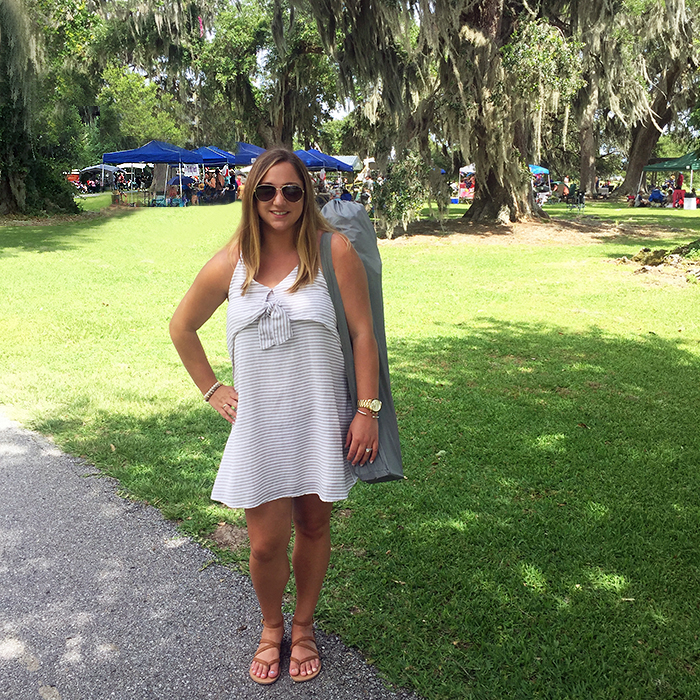 FESTIVAL MUST HAVES:
WATER BOTTLE
Hydrate, hydrate, hydrate!  This is so important, especially when you're in the humid heat all day with little to no shade (that's Jazz Fest for ya)!  You may not be able to get past the security check point with a plastic water bottle, but an empty bottle such as a Contigo or Bubba refillable insulated bottle to keep water cold all day are usually okay.
COLEMAN COOLER QUAD CHAIR
For just about every festival in New Orleans, a folding portable chair is an absolute must!  In fact, I would never go to a fest without one!  There are so many out there to choose from, so I'm going to make this easy for you.  Get the Coleman Cooler Quad Chair– you won't regret it!  It has a built in drink holder, a water resistant phone sleeve built into the armrest that provides full use of a touchscreen,  and a built in cooler that holds 3 cans of your favorite beverage.  Need I say more!?  I call this the king of all chairs!
FEDORA
Hats can be such a blessing on those hot sunny days, especially when there's no shade.    Lack of shade is often the case on large parade grounds where fests are held, so I always bring a hat just in case!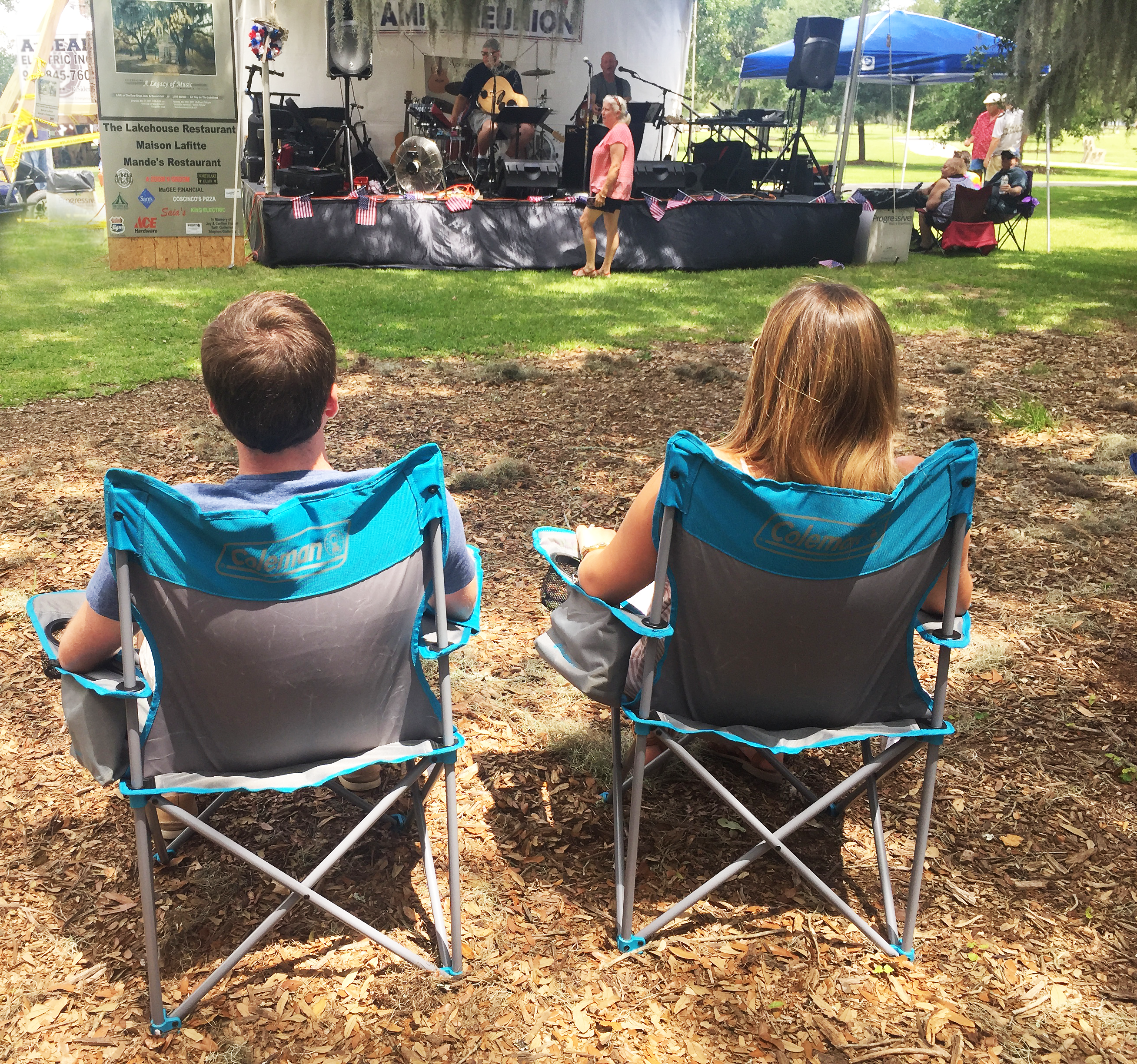 PICNIC BLANKET
These come in handy when you want to sit in the grass without getting your clothes dirty!
COLEMAN INSTANT CANOPY WITH SUNWALL
Depending on the type of fest, you may be able to camp out or have a tailgate.  When that's the case, I highly recommend the Coleman 10×10 Instant Canopy with Sunwall.  It takes just 3 steps to set up for quick and convenient shade with 50+ UPF protection.  The sunwall accessory is a great addition that provides even more shade on any side of the shelter.  If you don't like to be stuck in direct sunlight, bring this along! It comes with a carry case and can easily be transported.
BACKPACK
I always recommend carrying some sort of backpack to store water bottles and any other small festival must haves you may need, like sunscreen, hand sanitizer, snacks, etc!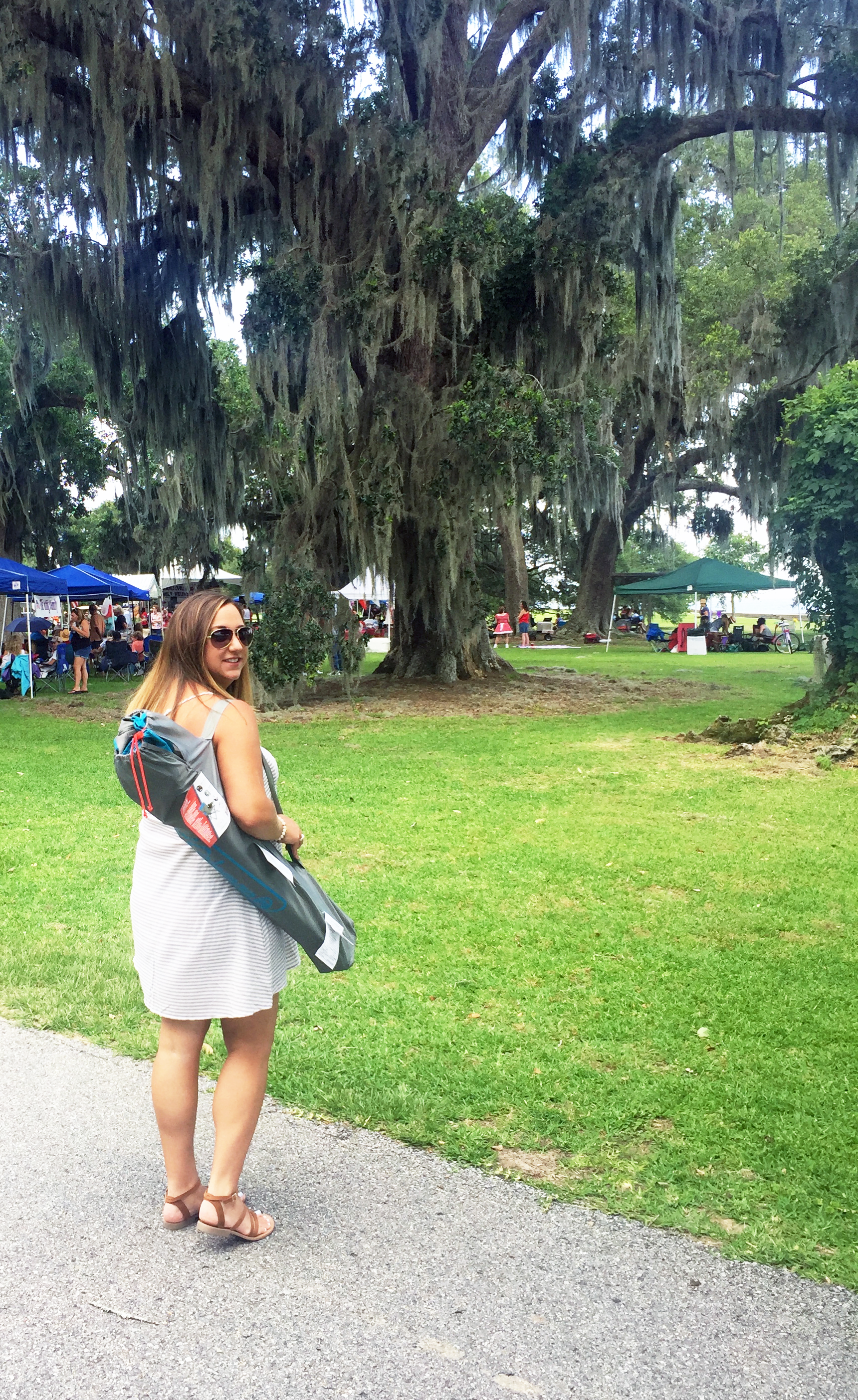 SUN SCREEN
This is easily forgotten, but totally necessary!  Skin cancer isn't cool!
HAND SANITIZER
Probably the worst thing about festivals is the lack of restroom amenities.  This usually means dirty port-o-potties (gross) and no soap.  Hand sanitizer becomes a godsend during these types of events- you'll be thankful you packed some!
HAIR TIES 
Nothing's worse than your hair feeling like a wool scarf wrapped around your neck in 90 degree temperatures, am I right!?  Hair ties will come in handy when you can't handle the heat anymore! These Goody hair ties are my go-to.  They won't leave a crease in your hair and they come in many styles to match any outfit!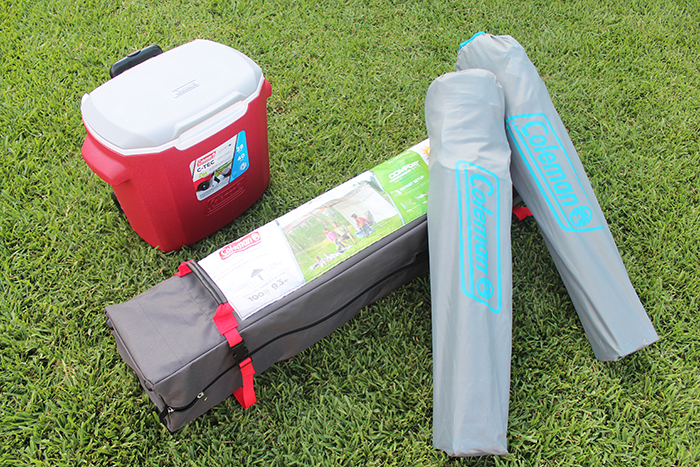 COLEMAN WHEELED COOLER
Some festivals are more strict than others, so just be sure to check the rules before you go.  For those that allow coolers, this 28 quart wheeled cooler from Coleman is a festival must have!  It's easy to wheel, which is a life saver when you have a far walk.  Who wants to carry a heavy ice chest!?  Not me! It also rolls on just about any surface, which is an absolute must!
SUNGLASSES
Remember, there's usually no shade!  Your eyes will thank you if you remember your sunglasses!
EAR PLUGS
This is the #1 thing I usually forget, and one of the hardest, if not impossible items to find once you've entered festival grounds.  Being up close to the front of a show is an amazing experience, but that can do some serious damage to your ears! Despite how you may feel, nobody will judge you for wearing them!  In fact, they'll probably be like "why didn't I think of that!?"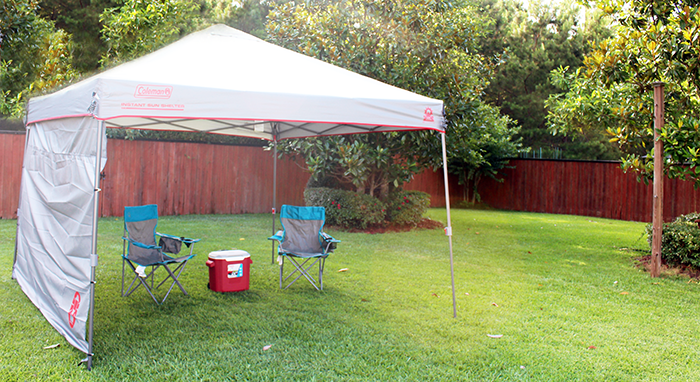 FIRST AID KIT
You never know what can happen at a fest, so it's always better to be prepared.  A mini first aid kit that can fit into a small backpack is ideal.  There's usually lots of walking involved, and lots of walking means blisters, so be sure to pack some bandages just in case!
RAIN BOOTS
If there's even the slightest chance of rain during an outdoor fest, I highly suggest you don't make the terrible mistake I once did while attending a festival during a tropical storm (I can't make this stuff up!) and wear rain boots!  You'd be amazed just how fast an outdoor fest can turn into a muddy slop fest as soon as rain hits.  It really is as gross as it sounds and I wouldn't wish having to walk through that muck on anyone!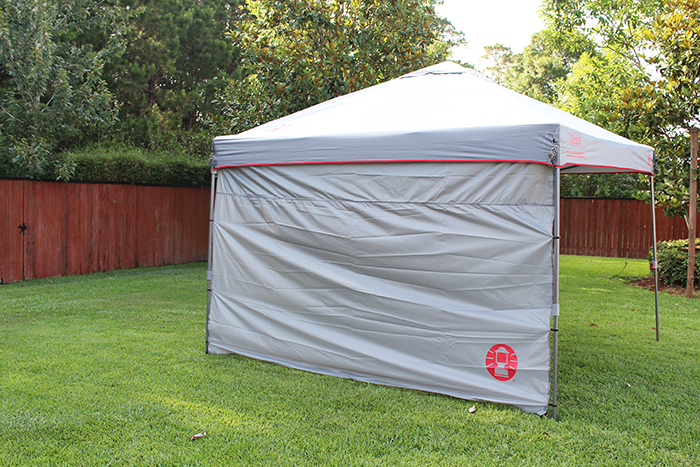 So there you have it, a checklist of what I think are festival must haves based on my festival going experience!  If you're heading to a festival any time soon, be sure to pack the essentials!
If you're in need of festival gear, head to Target for your festival must haves!  You can save on Coleman products in Target stores, like the cooler quad chairs, instant canopy with sun wall, and wheeled cooler I mentioned by using the Target Cartwheel app.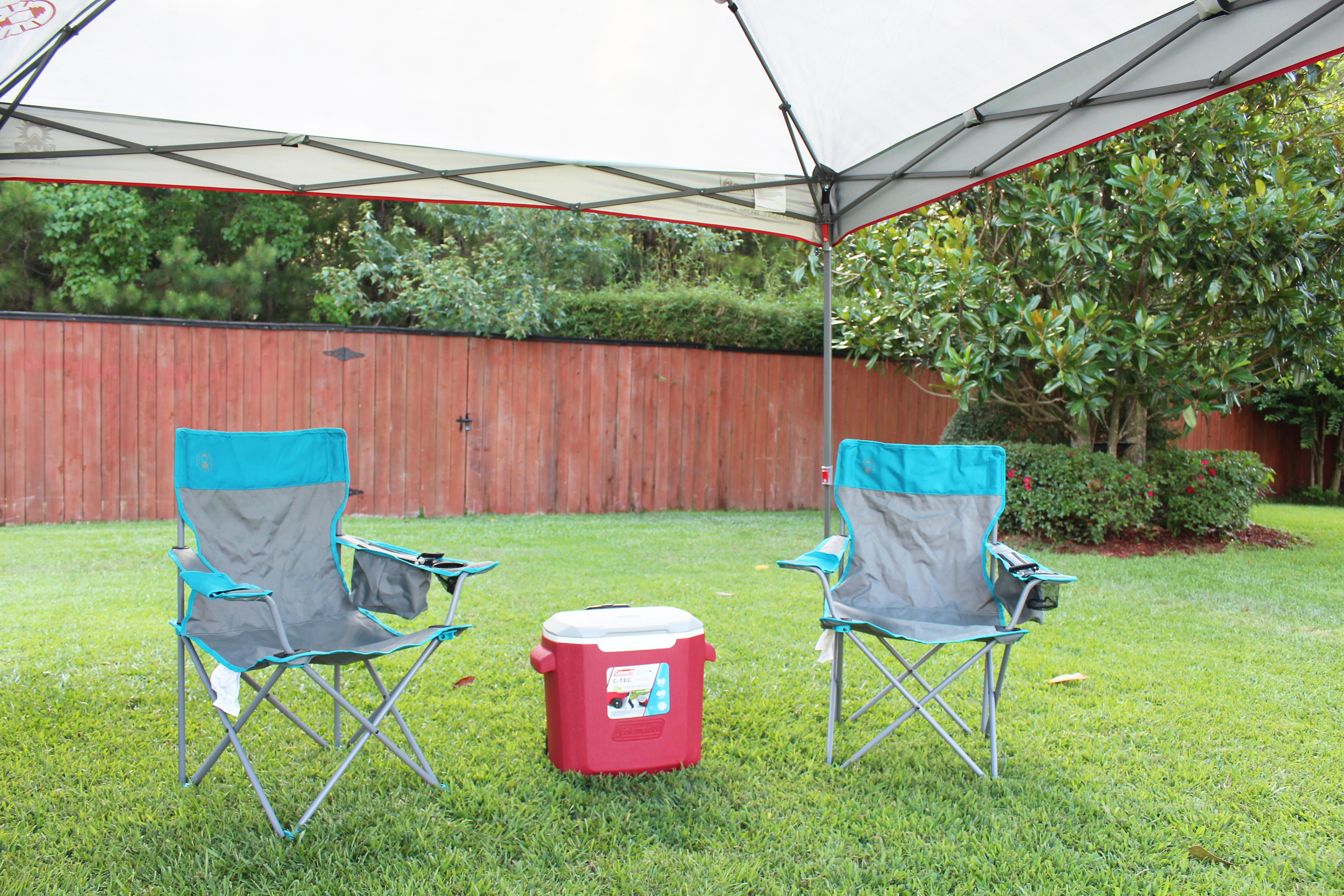 Are you planning on attending any festivals this year?  Where will you be headed!?  What are your festival must haves?